Back to Work
Stowable
A cutting-edge website and web application, delivering a hassle-free self-storage solution.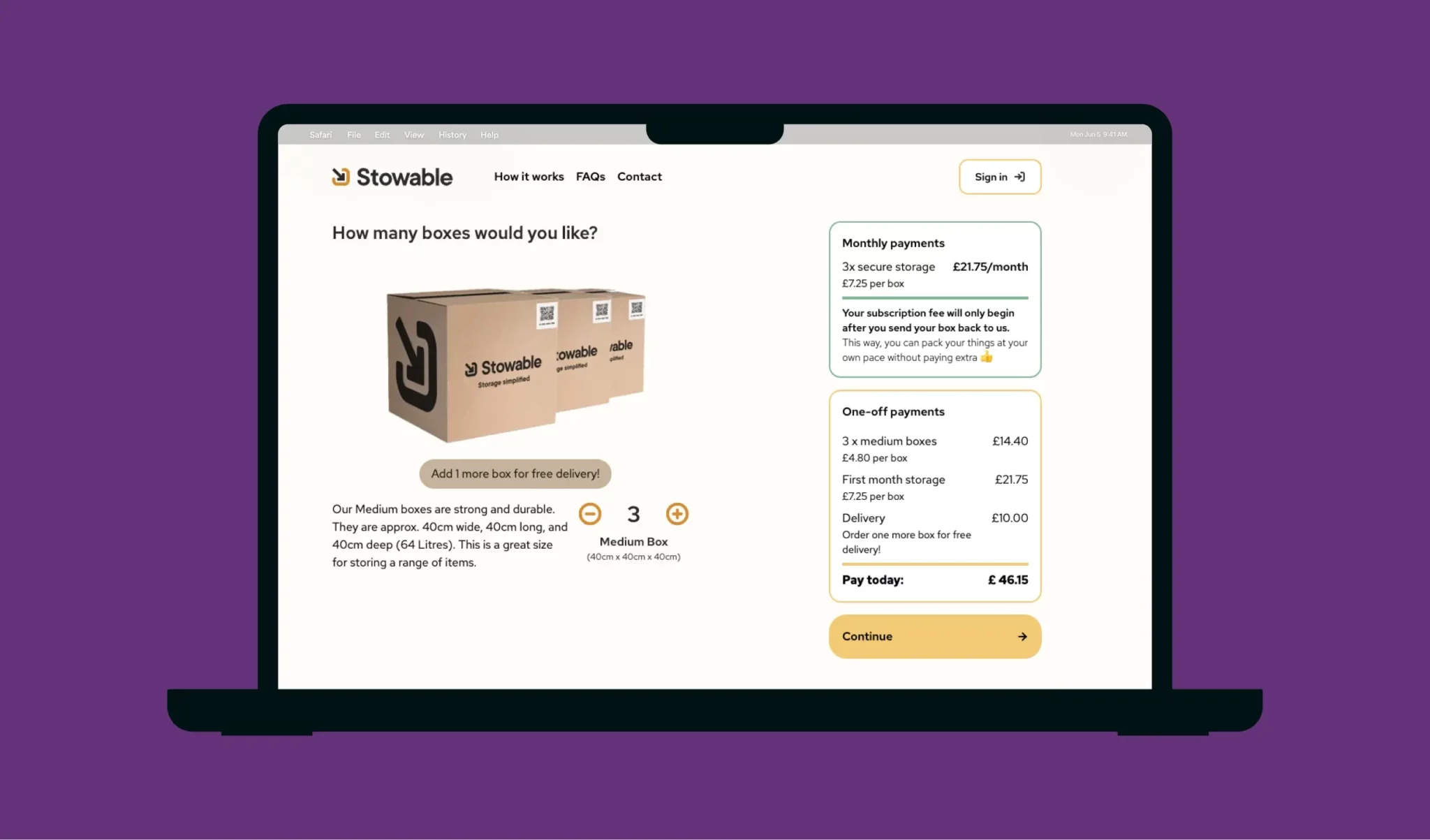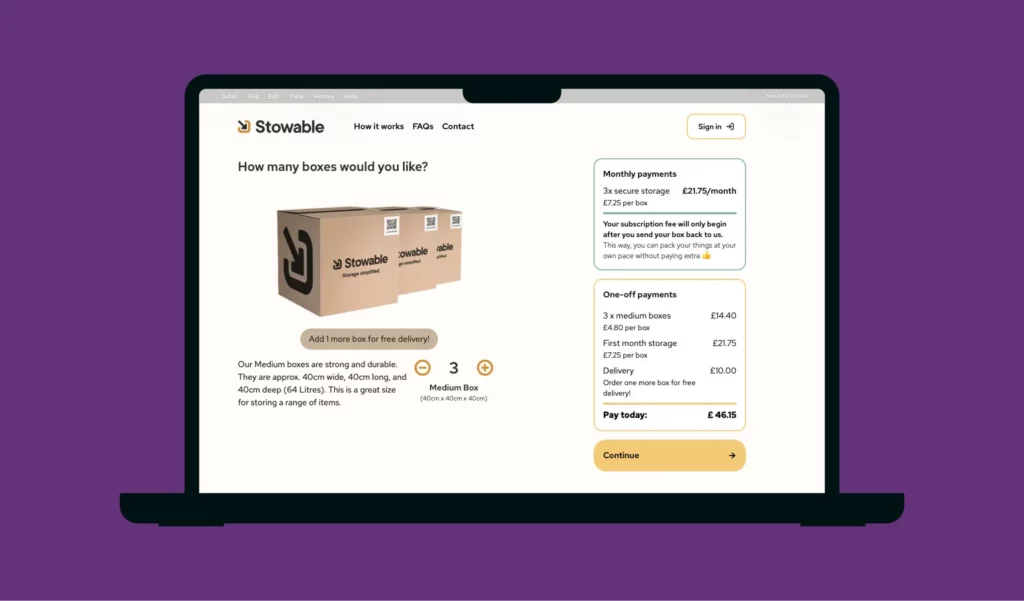 The challenge
Simplified storage, from the comfort of your home
Meet Stowable, the brainchild of two entrepreneurial spirits, Jen and James Mugleston. Their revolutionary idea? To transform storage into a monthly, no-fuss affair that's not just easier but also entirely hassle-free. You pack your items, and they take care of the rest – delivering, storing, and returning on demand. However, like many startups, they encountered a digital hurdle. Their dynamic business model needed a digital framework to support the business. That's where we stepped in.
Services
Digital Products, Startup Branding, UX & UI Design, Web App Development, WordPress Websites
Company Size
Startup
Industry
Services
Range
£50,000 – £199,99
Website
stowable.co.uk/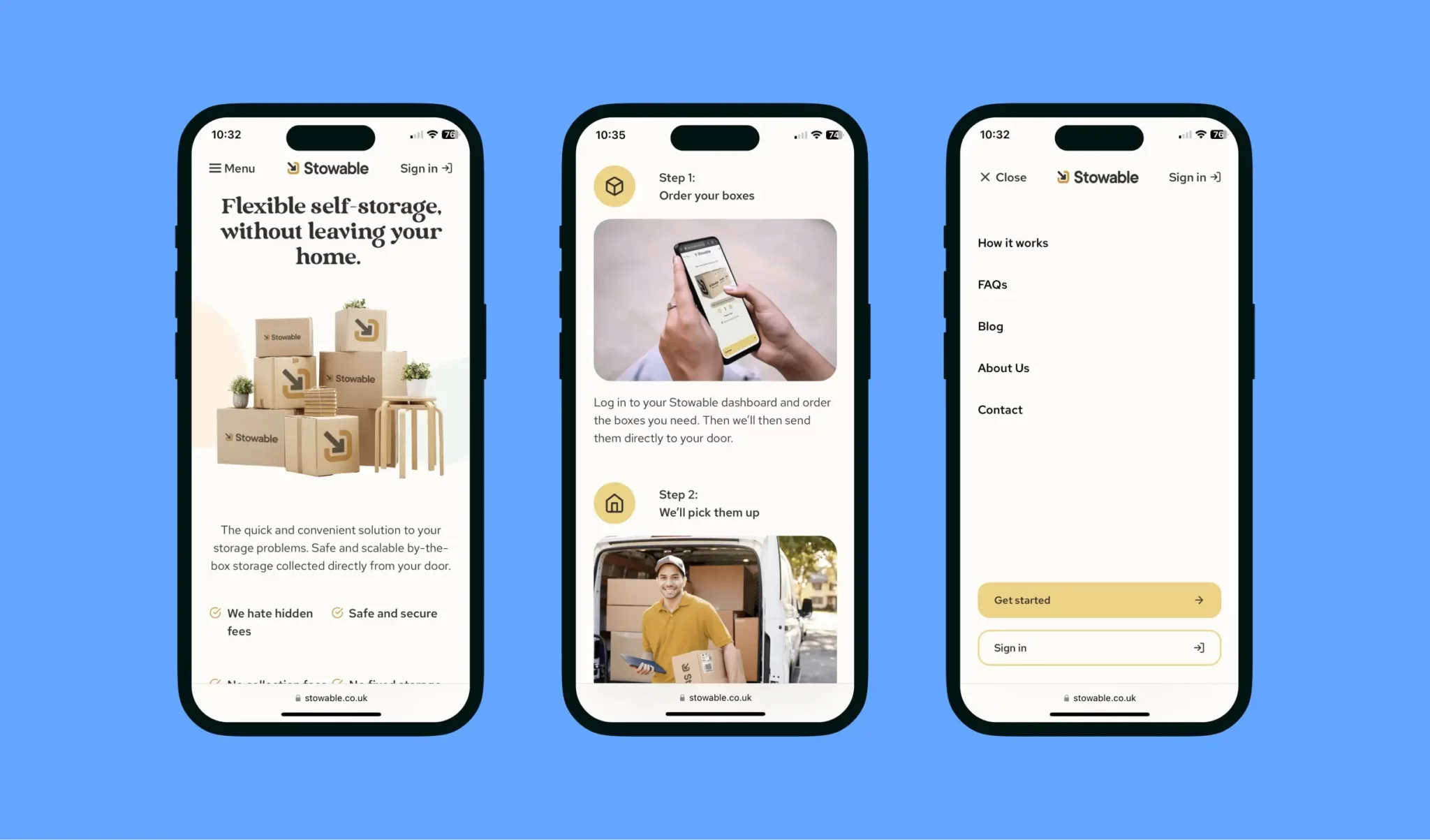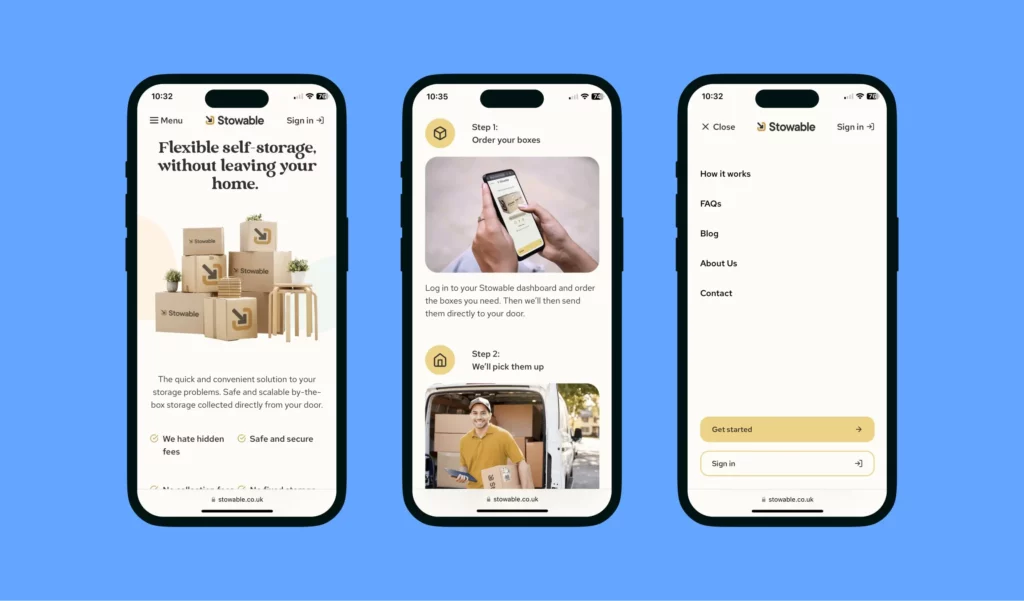 Translating ambition into action, sustainably
As Stowable was in its startup phase, it necessitated both technical expertise and a design team capable of not only bringing their brand to life but also crafting bespoke user experiences (UX), all while focusing on achieving net-zero carbon emissions. The project aimed to digitise the entire business, ranging from a marketing website designed to attract, acquire, and retain customers, to a comprehensive system engineered to automate their business processes—including sending boxes to the warehouse for check-in, packing, and storage. This would form part of the first iteration, also known as the Minimum Viable Product (MVP), which would subsequently be monitored and enhanced over time based on user feedback, adhering to an Agile methodology—a principle we staunchly uphold here at Hiyield. Nevertheless, it was imperative that the initial MVP maintain a high enough standard to ensure the business's operation, elevate the value and demand for their offerings and services, and generate revenue.
Engineering cutting-edge software design with Nuxt3 and WordPress
Our Chief Technology Officer (CTO), Matt Ville, orchestrated the software design, which encompassed a website updatable via a content management system (CMS), a customer portal, and a web app. Notably, this project represented a beautiful mix of super-modern technologies, with the web app utilising 'The Intuitive Web Framework' Nuxt3, and the website employing the easy-to-use and highly flexible WordPress CMS. This established the framework for the product and became the catalyst for subsequent steps.
Research, mood boards, and process mapping
We compiled mood boards, scrutinised competitors' and like-minded platforms' user journeys, and analysed their aesthetic appeal and functionality. Additionally, we mapped out the physical warehouse processes to be integrated into the warehouse web app.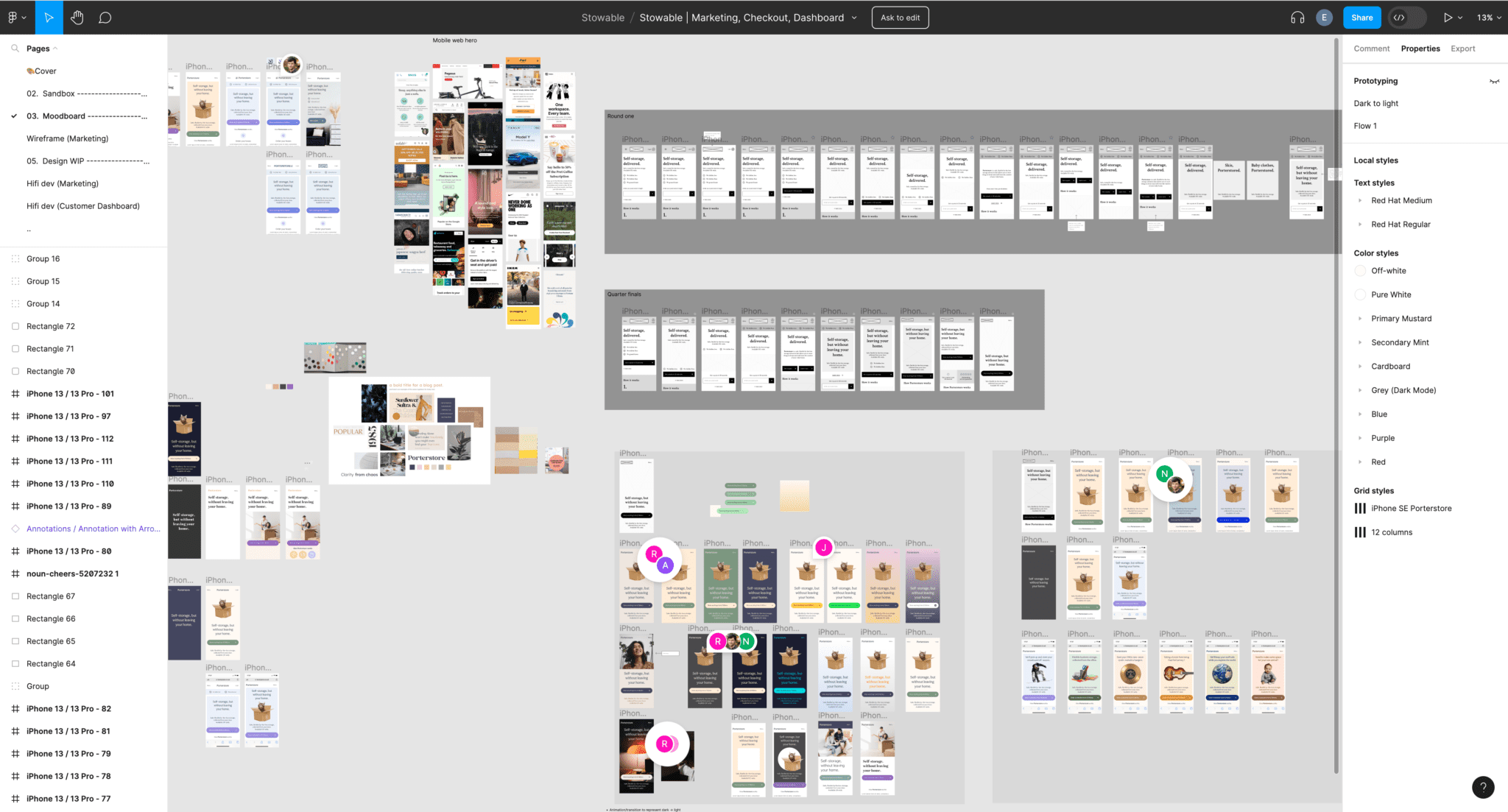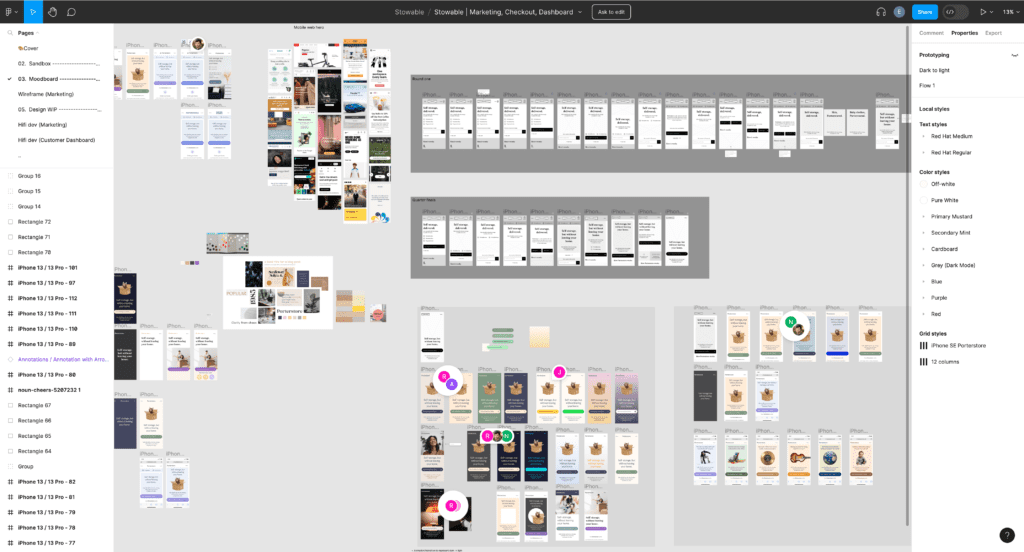 Building an identity: logo, colours, and typography
We then embarked on bringing the Stowable brand to life. We settled on brand colours that reflect the materials customers encounter while using the service: cardboard, tape, and sustainable packaging materials. The Stowable logomark illustrates the process of packing items into boxes, storing them in a warehouse, and returning them to customers. Additionally, the full Stowable logo is designed to be highly legible, even at a diminutive height of 32px. We also assembled three types of typography that complement each other, providing a framework for the complete product and which will be used across digital platforms and in marketing efforts. To wrap up the branding work, we packaged all elements of the brand into a PDF for the Stowable team to keep safe and sound.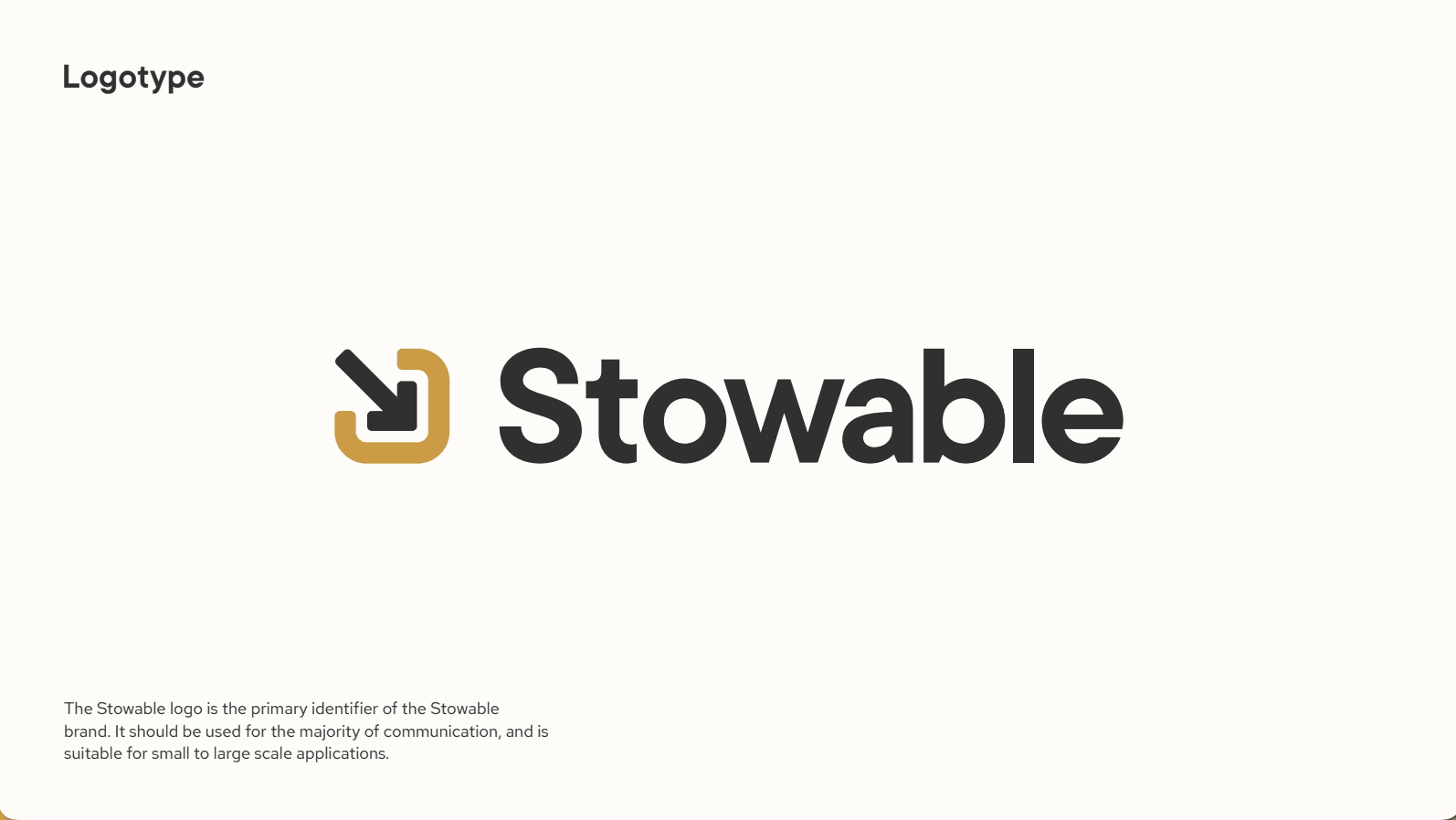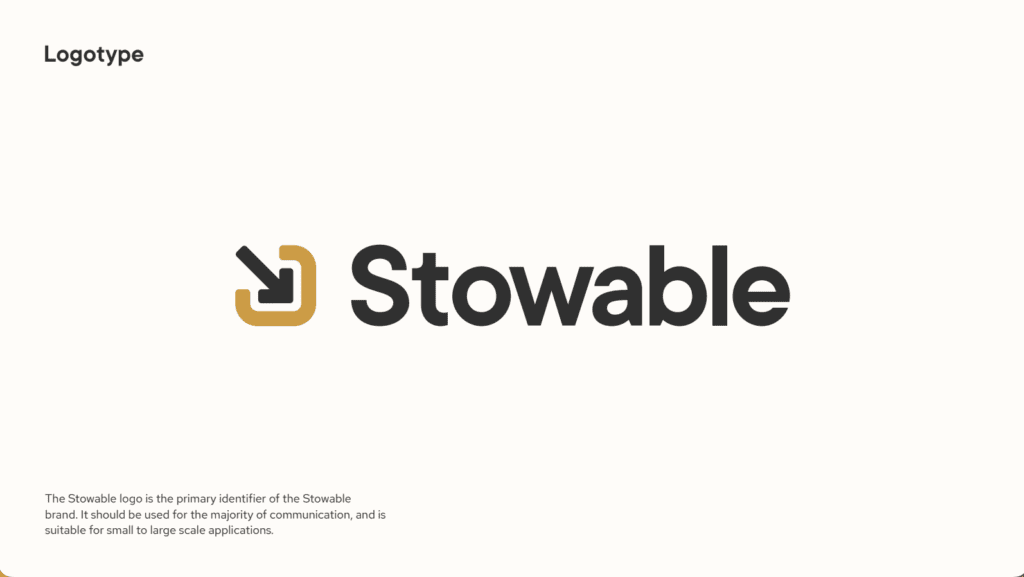 The web application & admin dashboard
One of the key challenges to address in this project was automating the logistics. The boxes needed to be dispatched to the customer, returned to Stowable storage, and moved within the Stowable storage facility. In line with the software design, we developed a web app to automate these tasks and streamline the entire logistics process.
Seamless logistics
We explored several options for box transport, many of which ultimately fell short of our requirements. Eventually, we discovered the perfect solution by using a configuration of ShipEngine and ParcelForce. To facilitate the transport of boxes, a system was imperative for easily identifying each box. Here, the solution materialised in the form of QR codes, which could be printed and affixed to each box using specialised printing equipment.
An admin dashboard for simplicity and efficiency
Naturally, the design for the admin dashboard didn't require as much glamour as the marketing site. From a design perspective, the priority was crafting it to be as simple and streamlined as possible. Anything that might obstruct operational efficiency was stripped away, culminating in a supremely streamlined admin dashboard, infused with state-of-the-art technology.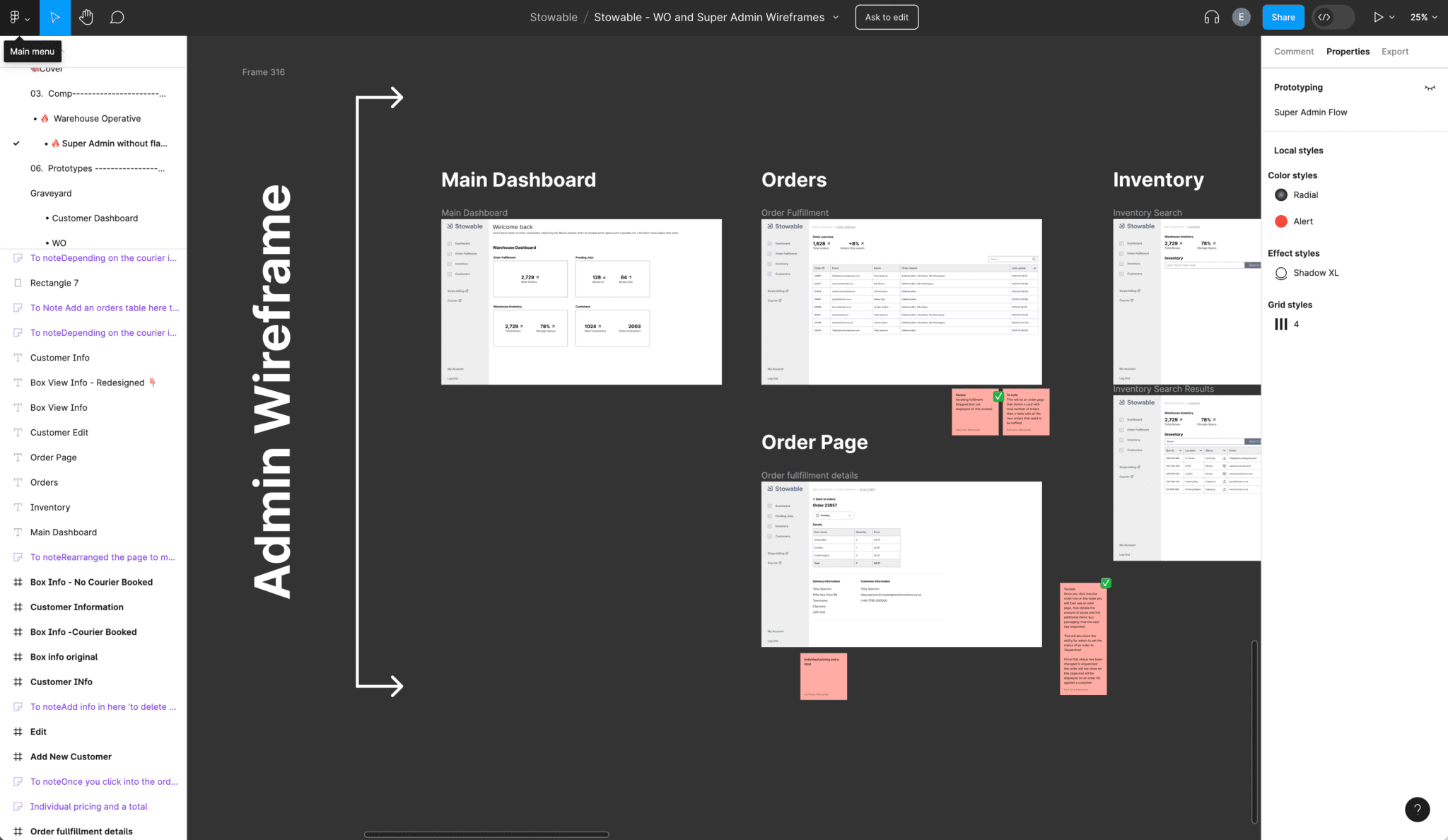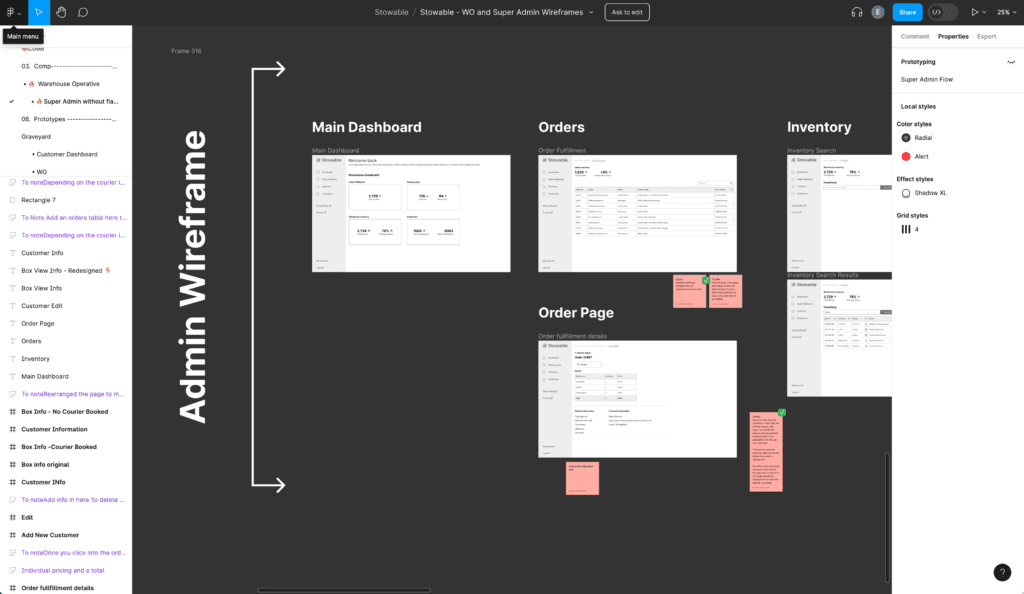 The marketing website & customer portal
From a design perspective, we had two primary goals for the marketing website and customer portal. Firstly, to communicate what Stowable is and how it works, and to build trust by clearly showcasing its unique value proposition, processes, and reviews. Secondly, to establish the website as the initial entry point—or what we call a customer portal—to enable new and existing customers to log in and manage their accounts with ease, from anywhere and at any time, 24/7.
Mobile first, user-tested and an instant price quote digital tool
The site was kept simple, yet meticulously designed through rigorous low-fidelity and high-fidelity designs using Figma, followed by prototype user testing. We adhered to general practices, enabling returning users to easily log into their accounts using the navigation bar. However, one uniquely innovative design aspect was the 'Get a quote in 30 seconds' digital tool. Users could click through a few pages, and the tool would automatically generate a quote in seconds—all with the aim to satisfy user needs and encourage them to get started with Stowable, employing a savvy conversion technique.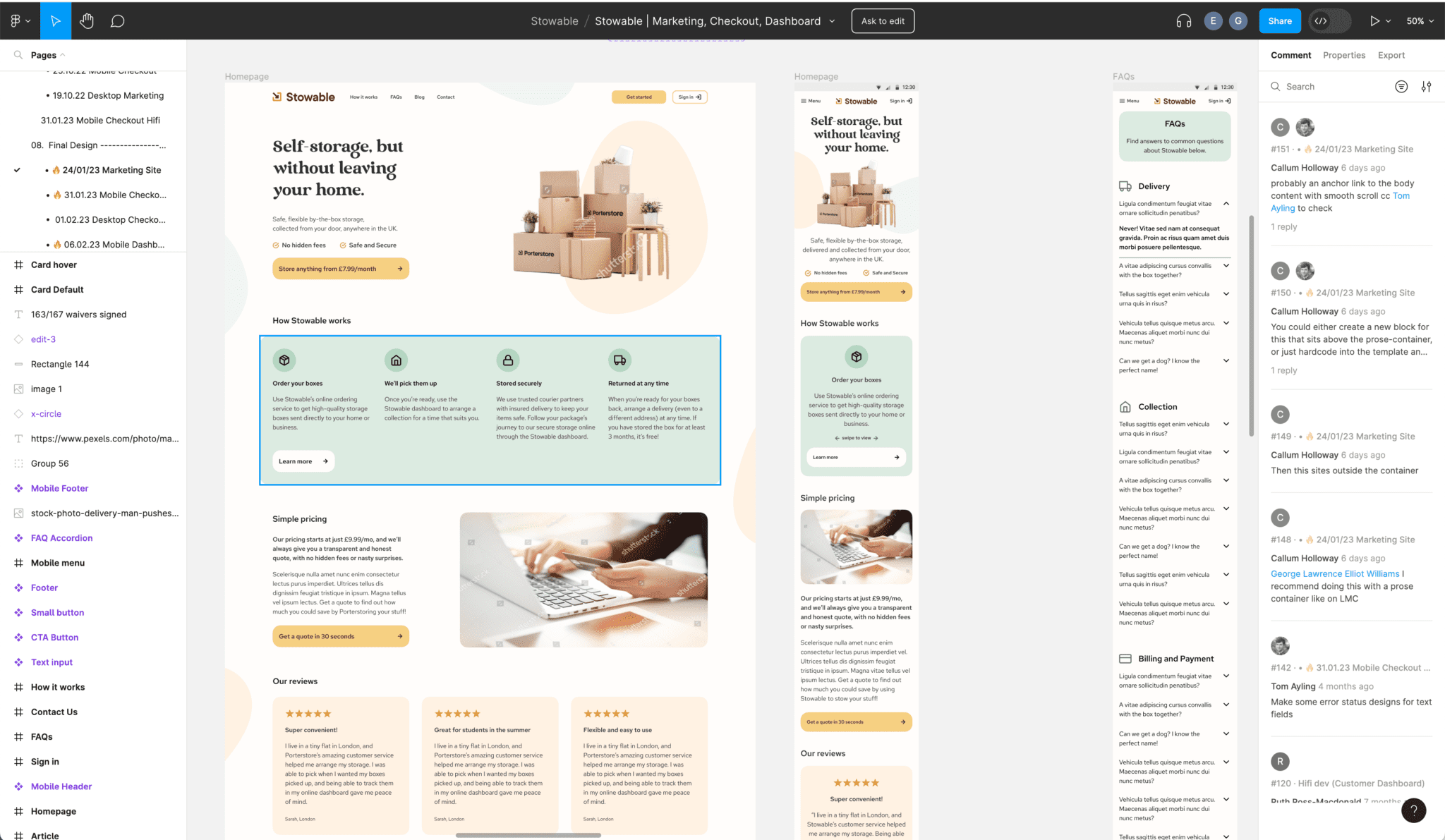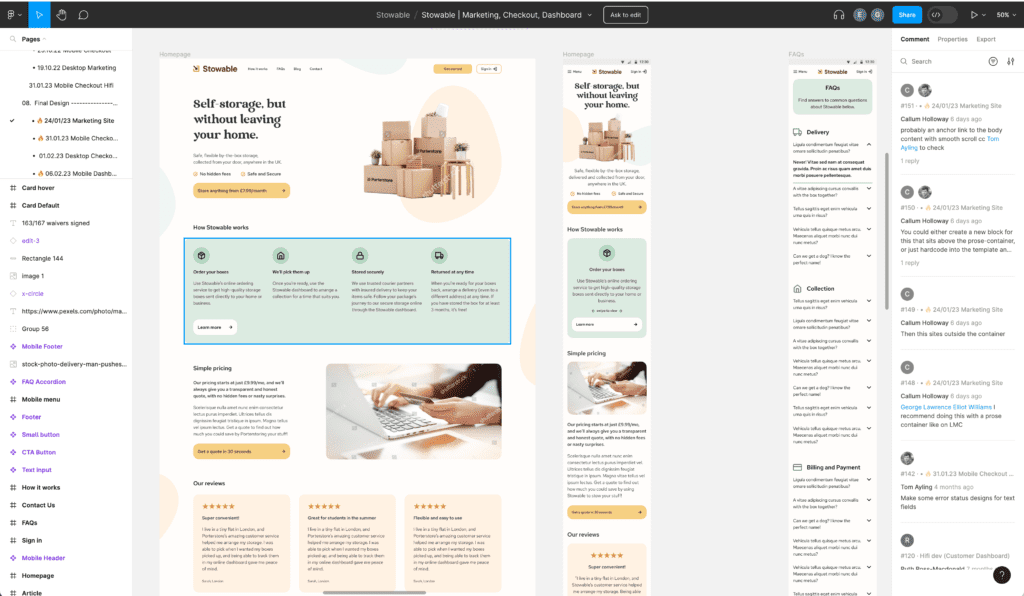 Complete control and beautifully integrated with the web application
Our website development team then took the designs and built the site using WordPress as the CMS, ensuring that the team at Stowable had complete control over their content, as well as seamlessly integrating the website and customer portal with the previously mentioned web application. As you can see below, the data points were connected to the appropriate places within the customer portal design to enable automatic updates for the user, using a beautiful design our UX designers had created on our design tool Figma.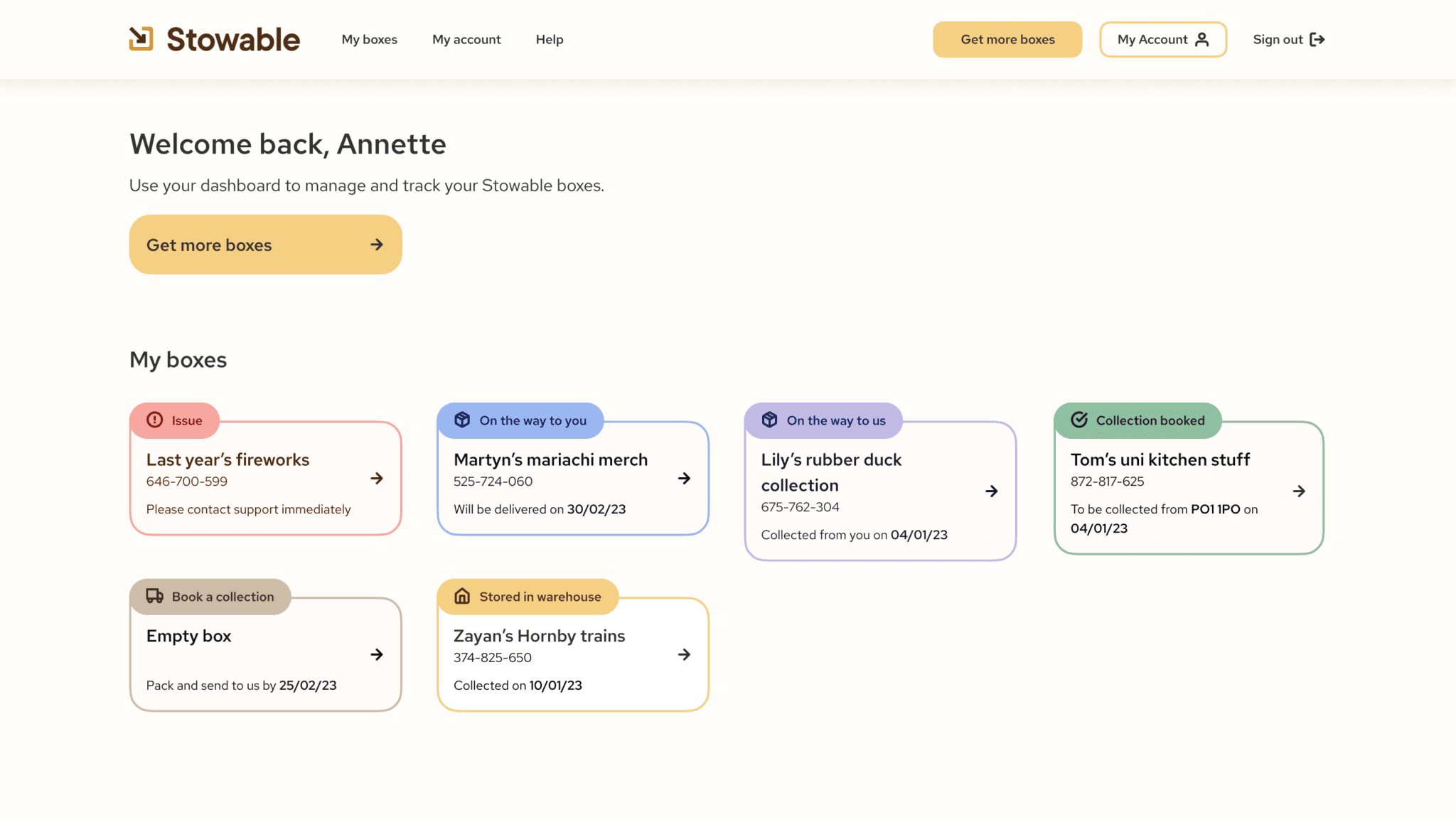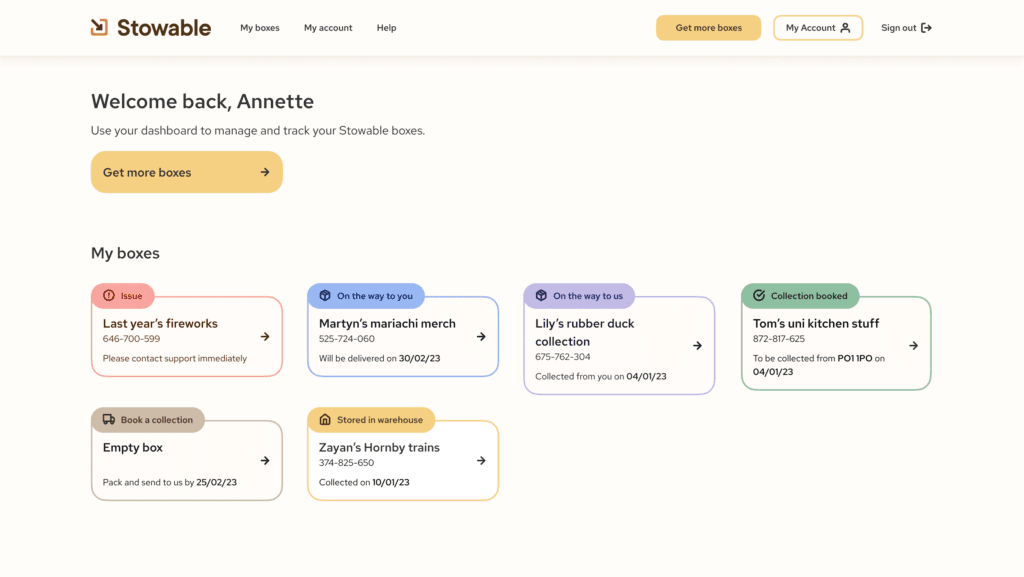 Carbon & Emissions Report
Finally, the only task remaining was to generate a Carbon & Emission Report, as we do for all our clients, illustrating how we've strategically minimised a project's carbon footprint. Here's how we minimised emissions while building Stowable's product:
Utilised an 85% renewable energy-powered hosting service.
Designed the product with sustainability in mind: rapid load times not only enhance the site's speed but also decrease server resource consumption.
Employed efficient code and design.
Minimised overall data consumption.
Adopted efficient architectures, serverless solutions, and robust caching mechanisms to lessen load and power consumption.
Implemented contemporary algorithms, minified scripts, and optimised media assets.
In addition, to further mitigate the impact, we've offset 3 tonnes of CO2e by planting 25 trees with Ecologi and contributing to 3 tonnes of offset through carbon avoidance projects. To delve into the report in more detail, please view it below.
"Our partnership with Hiyield has been nothing short of transformative. Their dedication felt as if our project was their own. Efficient, skilled, and with a knack for clear communication, they've truly elevated our digital game. If you're looking for a team that's as invested in your vision as you are, Hiyield is it!" – James Mugleston
The results
Stowable goes live: successfully launching and generating revenue
With all of the solutions now live, the product has transitioned from idea to revenue-generating reality. We at Hiyield couldn't be more thrilled to have worked on this project, and the team at Stowable is actively analysing the product for future improvements to enhance its efficiency and seamlessness even further. The numbers post-launch have been heartening: an uptick in user engagement, rave reviews, and, most importantly, a satisfied client testimonial have all spoken volumes about our collaborative success.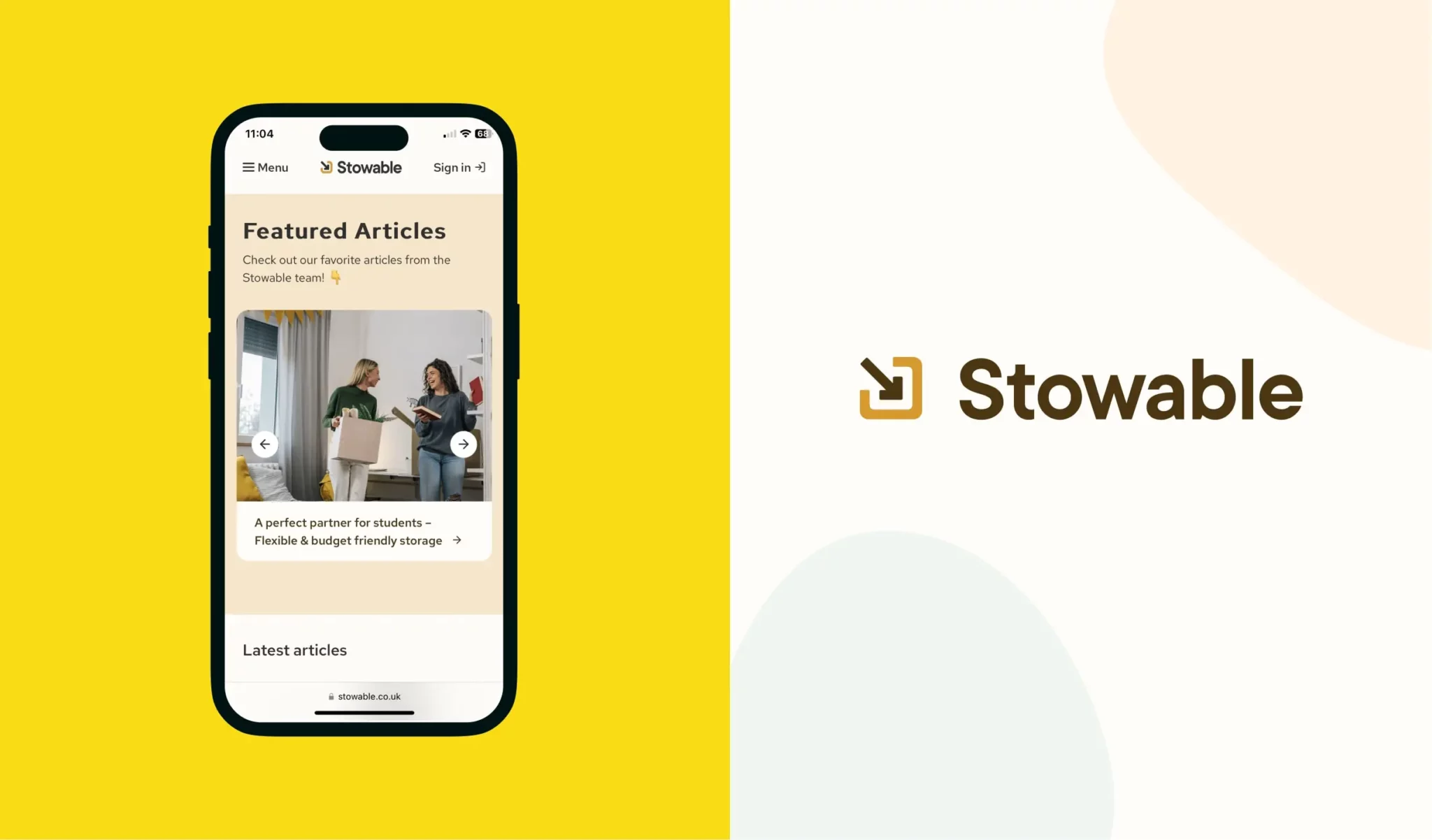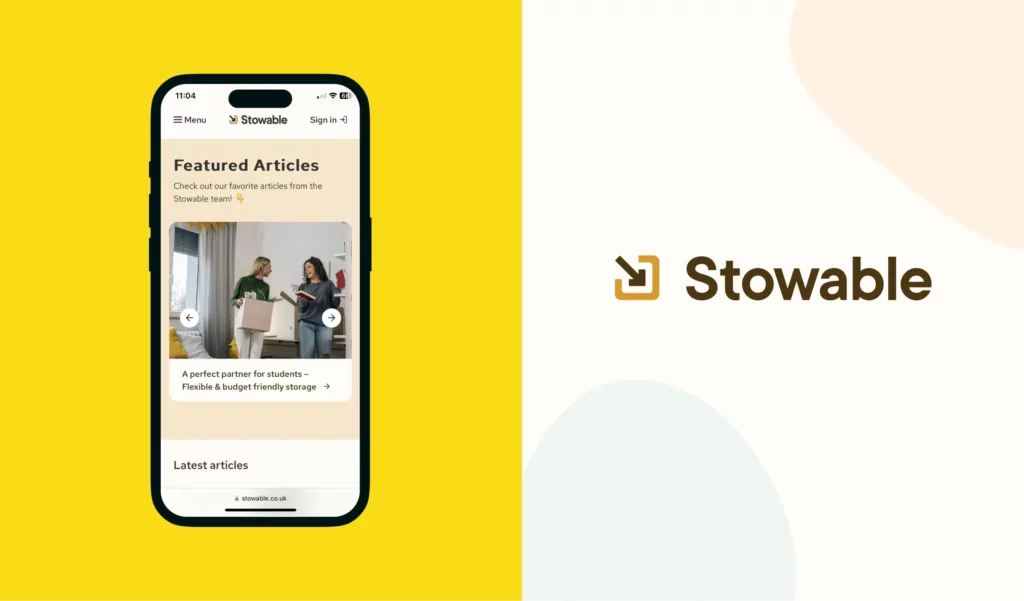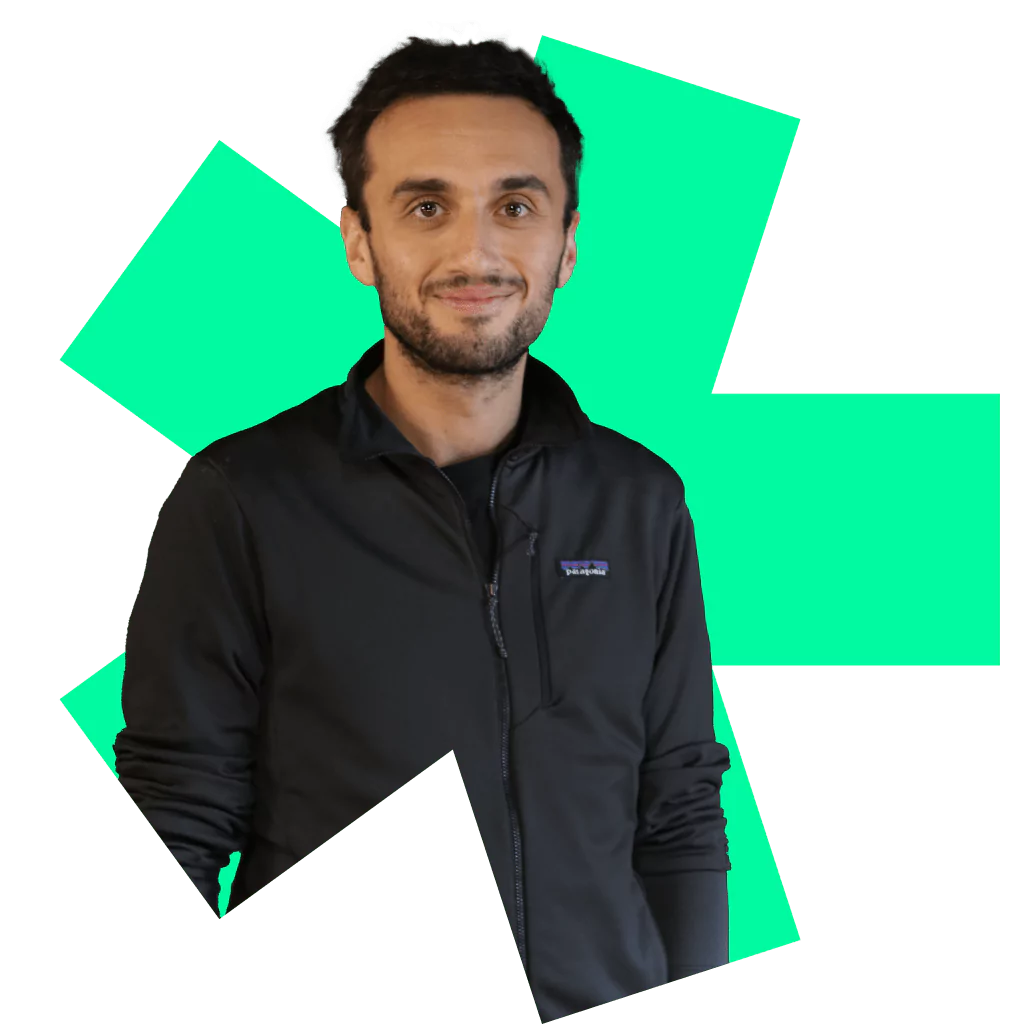 Let's get started!
Great digital products aren't just built, they're co-created. Together, let's breathe life into your idea, crafting solutions that stand out.