Back to Work
Utopia Plates
Utopia Plates, custom 3D and 4D number plate supplier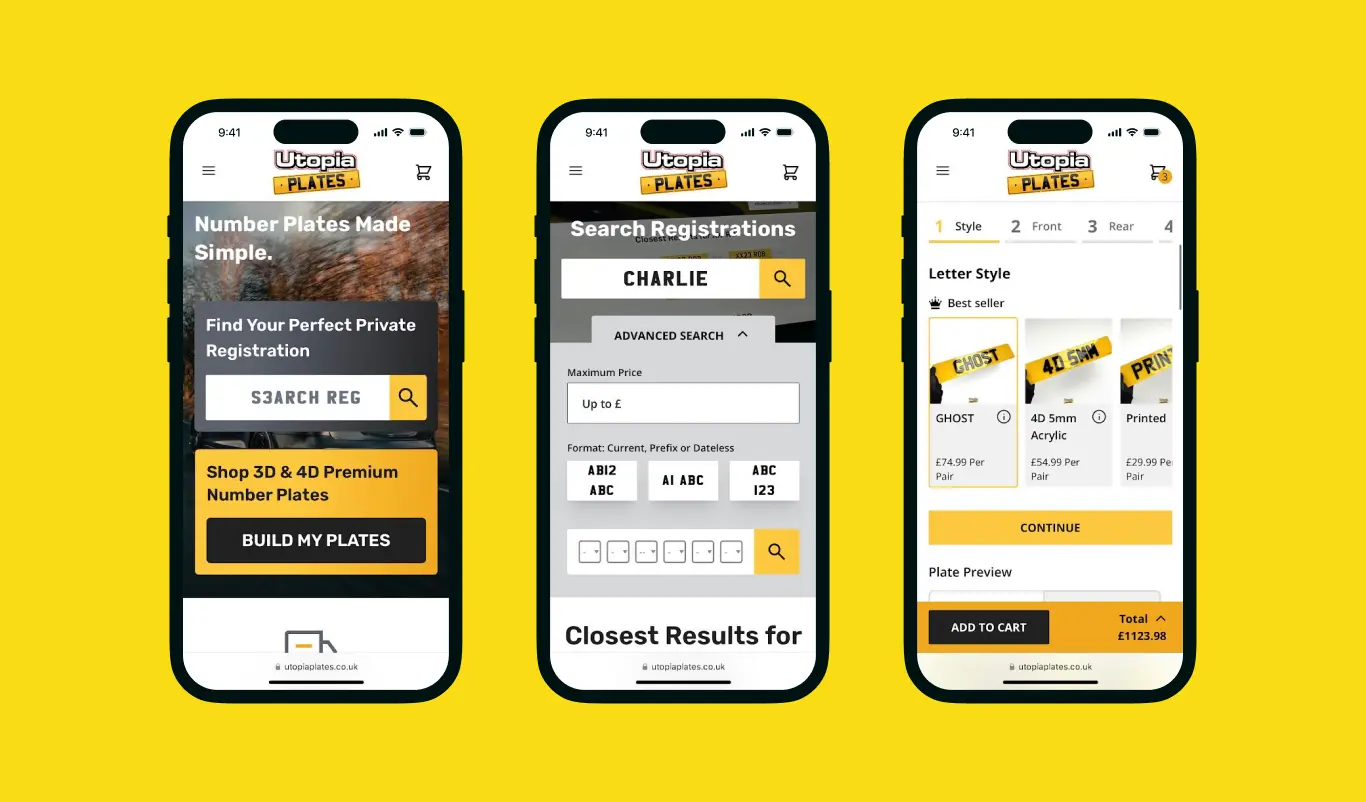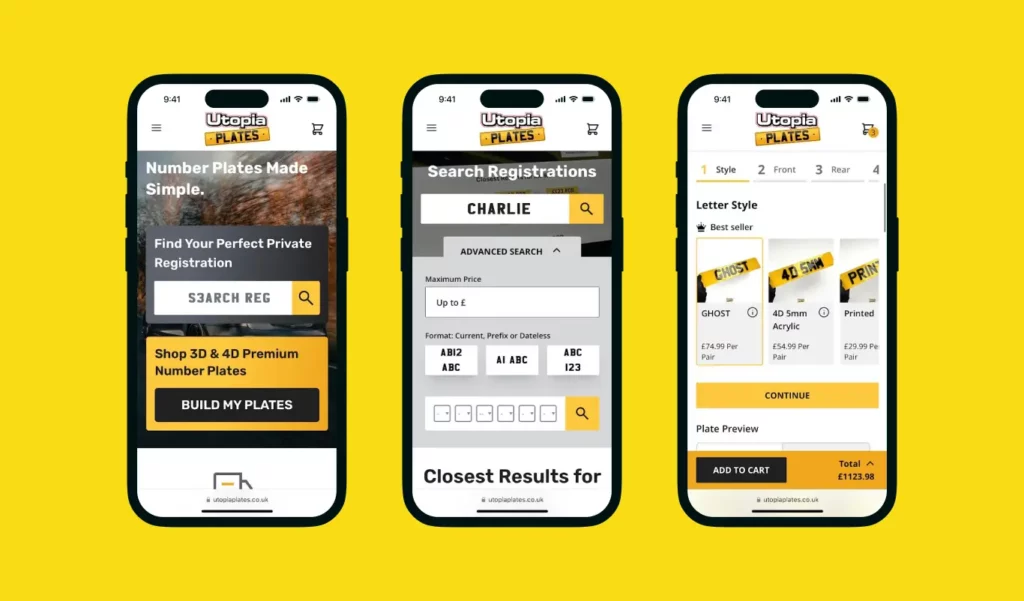 The challenge
Utopia Plates x Hiyield
Utopia Plates, a deluxe provider of number plates in the UK, is renowned for producing legal, laser-cut, custom 3D and 4D number plates. Operating primarily through an online platform on Square Space, the organisation has successfully reached a nationwide clientele, propelling its growth. Seeking to elevate its operations further, Utopia Plates envisioned turning its website into a web app full of modern features. That's where we come in.
Services
Discovery & UX Design, QA and Testing, Strategy, Web App Development
Industry
Retail
Range
£50,000 – £199,999
Website
utopiaplates.co.uk/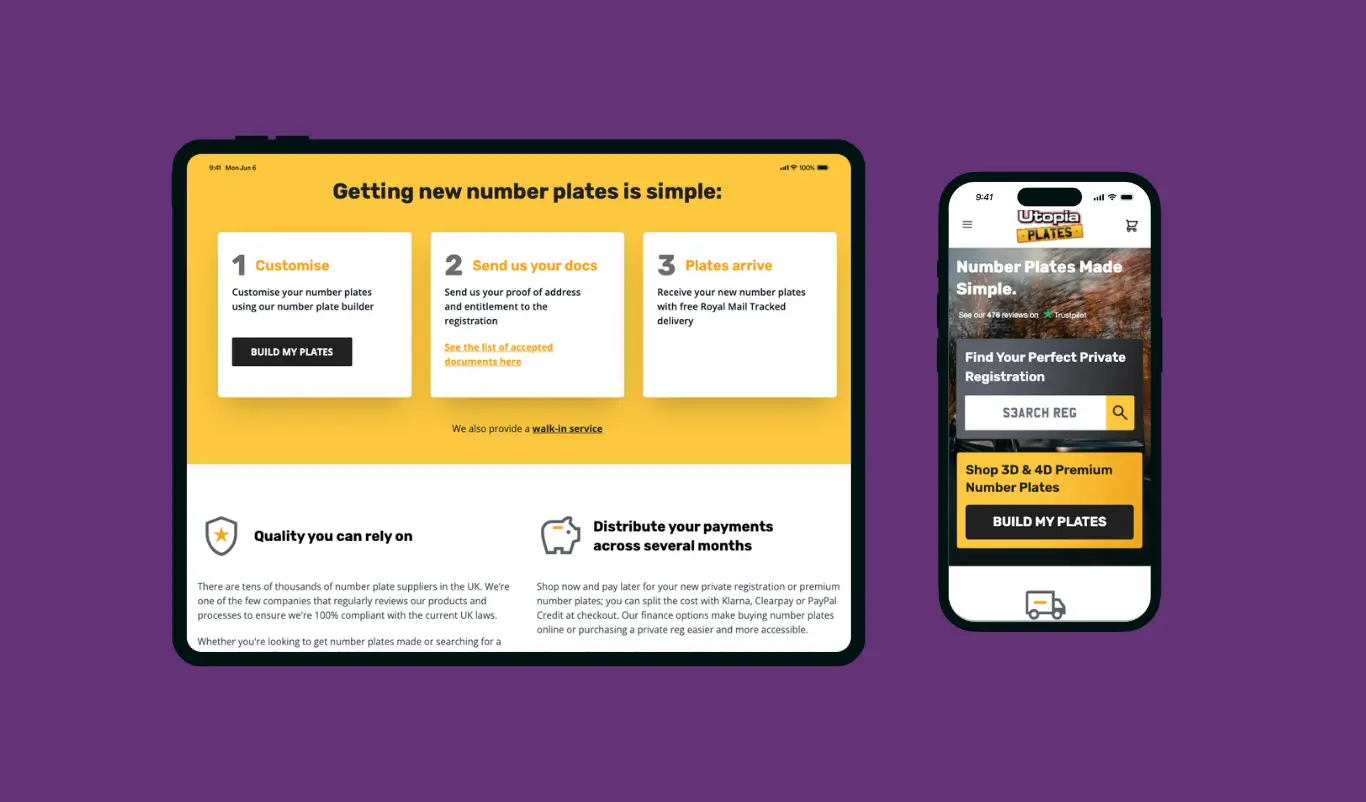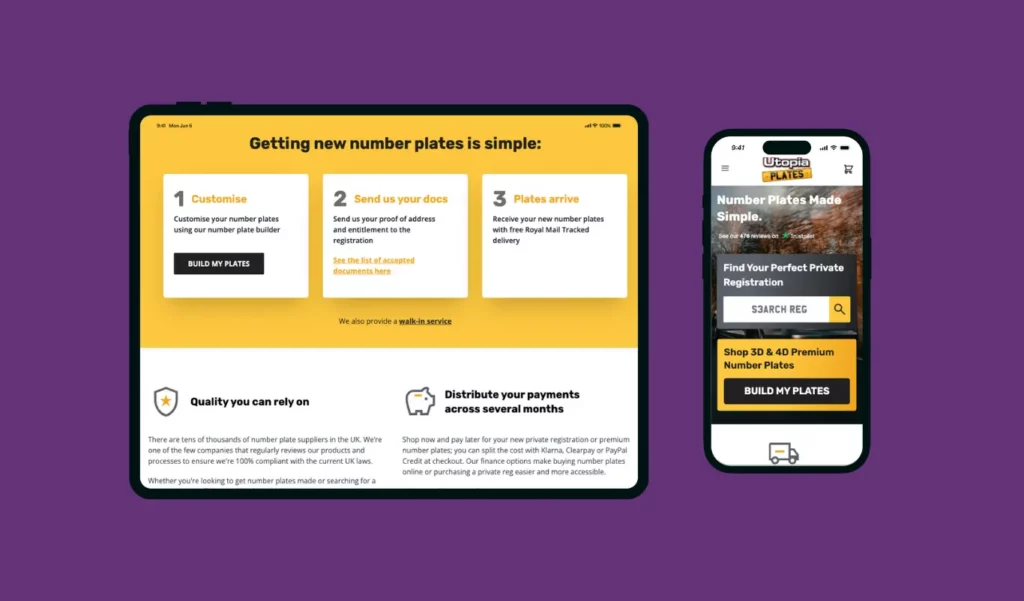 The solution
Expanding business horizons with the DVLA database and a new user experience (UX)
With a presence in the number plate industry since 2018, Utopia Plates identified a lucrative opportunity when DVLA, the official UK supplier of private registrations, allowed access to their database.
This enabled Utopia Plates to display available private number plates and function as an intermediary. And although direct revenue from selling the registrations isn't permitted, the opportunity offers an attractive prospect for upselling, merging the purchase of new private registrations with purchasing legal 3D and 4D number plates and accessories.
The Utopia team also wanted to refresh the user experience and further optimise conversion, which led them to us here at Hiyield.
Getting started – streamlining two essential user journeys
We developed an Information Architecture (IA) using FlowMapp to structure the website's hierarchy. Then, we designed UI guidelines, integrating their brand colours, prominently featuring yellow, symbolising a number plate.
We incorporated shades of grey and darker hues to highlight critical areas on the website. Plus, you'll notice that we emphasised the two primary user journeys at the top of the homepage, allowing users to navigate their preferred route easily: Find Your Perfect Private Registration or Shop 3D & 4D Premium Number Plates.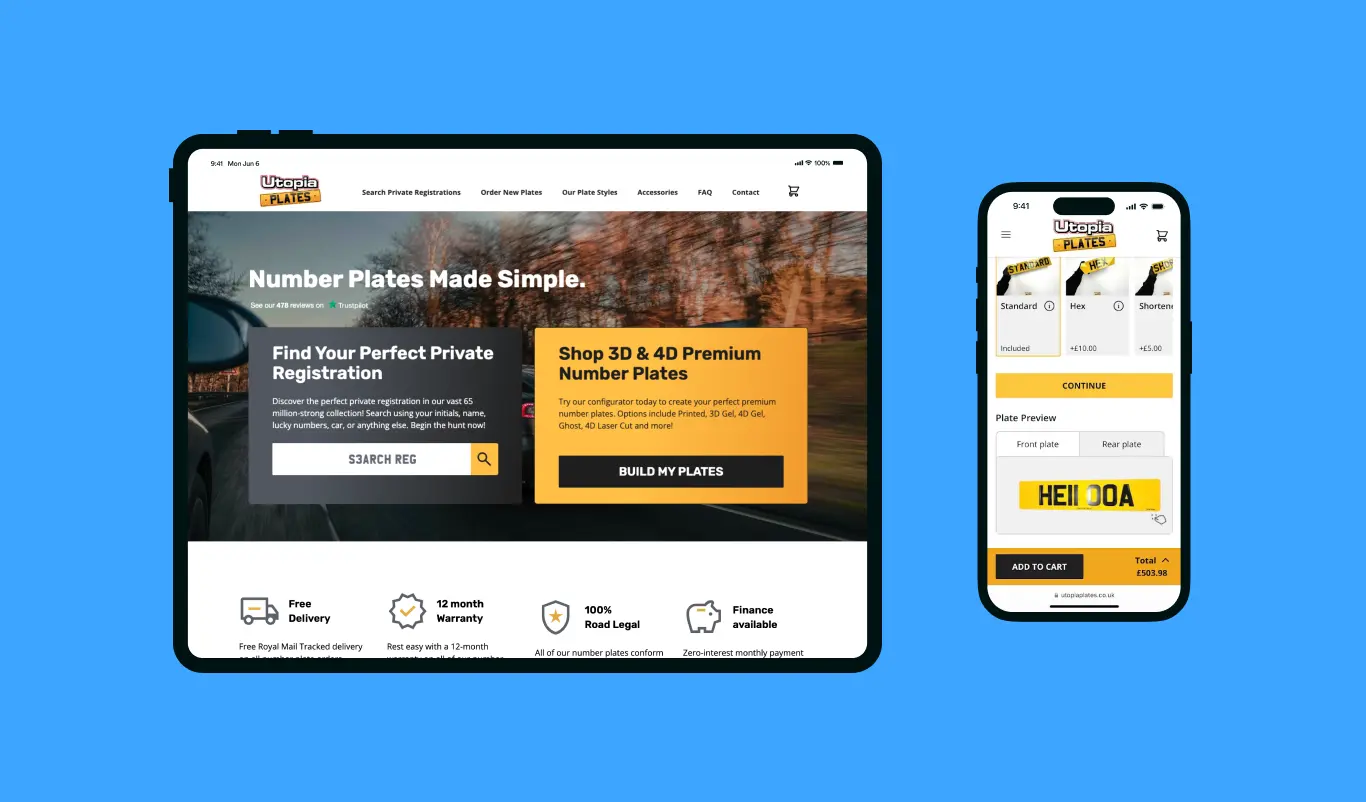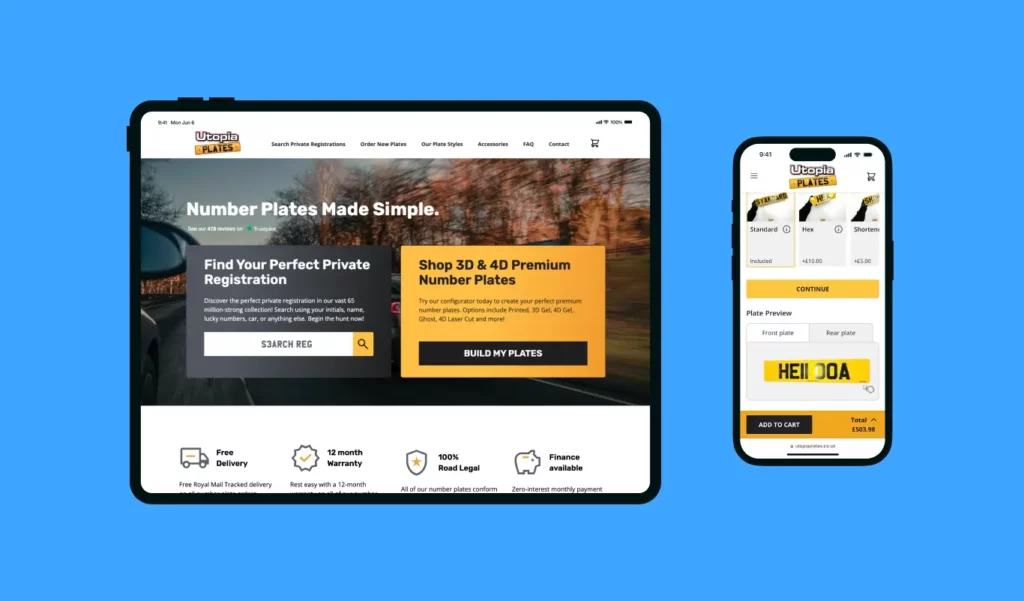 A streamlined process for acquiring new private registrations
The web app provides an advanced filter selection alongside an essential search function for users wishing to purchase a new private registration from the DVLA database. This custom filter allows users to browse based on criteria such as price and format, thereby easing the decision-making process. Users can effortlessly compare and select their preferred plates and can purchase a new number plate in a standard, 3D, or 4D format and accessories.
Building a new number plate with an ultra-fast 3D number plate render
The 'Build a Plate' user journey is super clear, with the shopping cart always visible on the right side of the page as well as having a 3D-rendered version of the number plate that they can move around by clicking and dragging, enabling users to visualise their new number plate, thereby encouraging increased conversion rates.
Made for mobile
Our UX designers designed a mobile layout that our developers used to optimise the web app for any screen size, enabling users to browse and purchase their perfect number plate with ease, regardless of whether they're on a desktop computer, tablet or mobile device.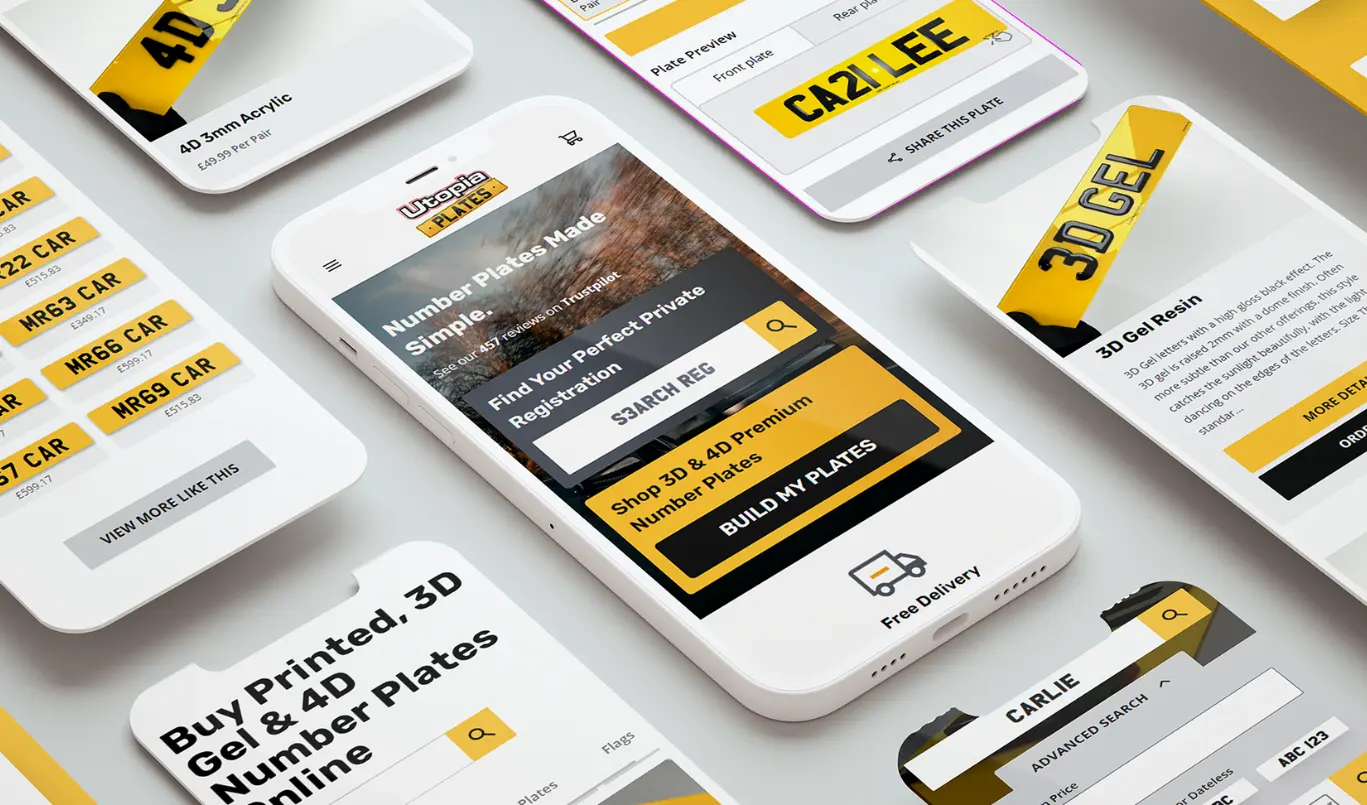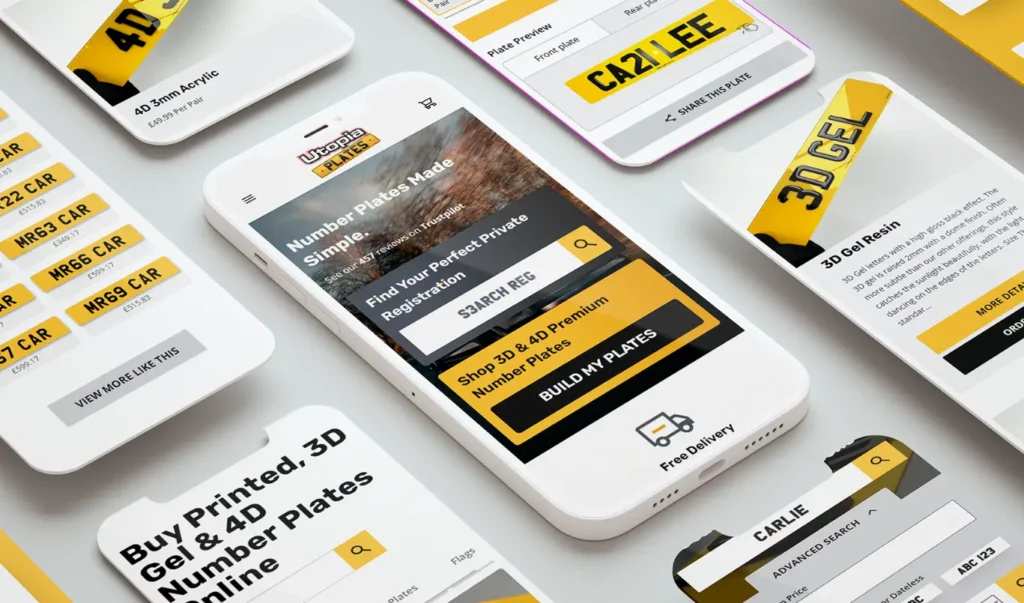 Redesigning the shop experience
Considering that Utopia Plates' has a small selection of products, our UX designers conceptualised a different solution that offers users a clear view of all the number plate options, enabling quick detailed visualisation and allowing them to make an order from the gallery.
Each product is stacked above the other with space for a title and additional information, eliminating the need for users to navigate further for more details. As well as this, the design uses tabs instead of drop-downs to categorise the products, thereby reducing the number of clicks.
For customers who know what they want, there's also an option to click an 'Order Plates' button that directs them straight to the cart. These optimisations ensure users can quickly find and order their desired number plate, thereby minimising clicks and enhancing conversion rate.
Utilising cutting-edge technology
This project with Utopia Plates called for more than just standard web development, but a team of experienced web app developers that utilised the latest technologies to bring this design to life.
Combining the state-of-the-art Nuxt3 framework with Big Commerce, and the user-friendly content management system, Prismic, we ensured that the team at Utopia Plates could conveniently upload, enter, and edit content and that their web app would be geared for the future.
Nuxt3
TailwindCSS
Prismic
TypeScript
Big Commerce
The results
Utopia is live and taking on orders faster than ever!
Utopia Plates' web app is now live, collecting data with noticeable improvements in user engagement and conversion rates, reflecting the successful implementation of our digital strategies.
Utopia Plates' new capability of offering private number plates directly from the DVLA database is no doubt broadening revenue, effectively achieving their business vision. Their team expressed high satisfaction with our collaboration, recognising our professionalism and tailored approach to their needs. We remain dedicated to tracking the outcomes and supporting the Utopia Plates team.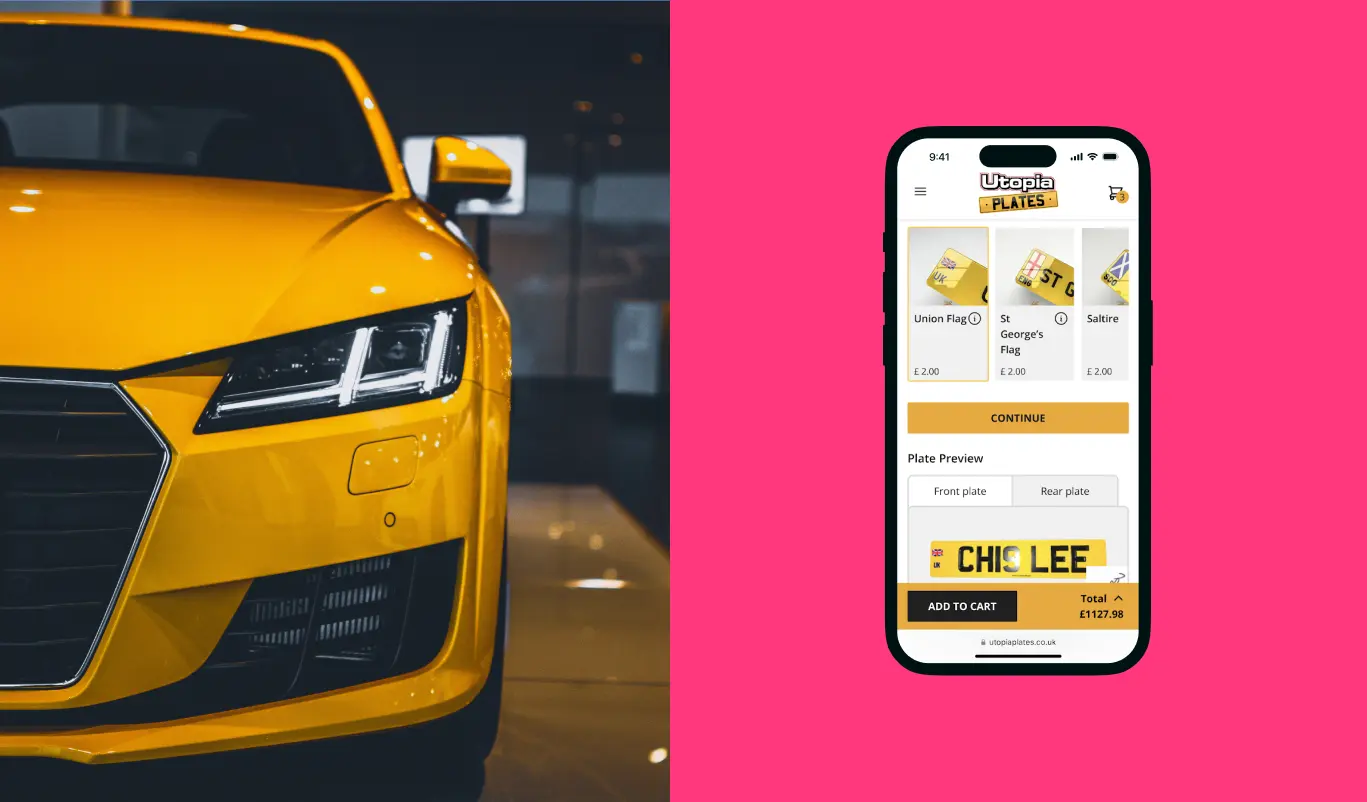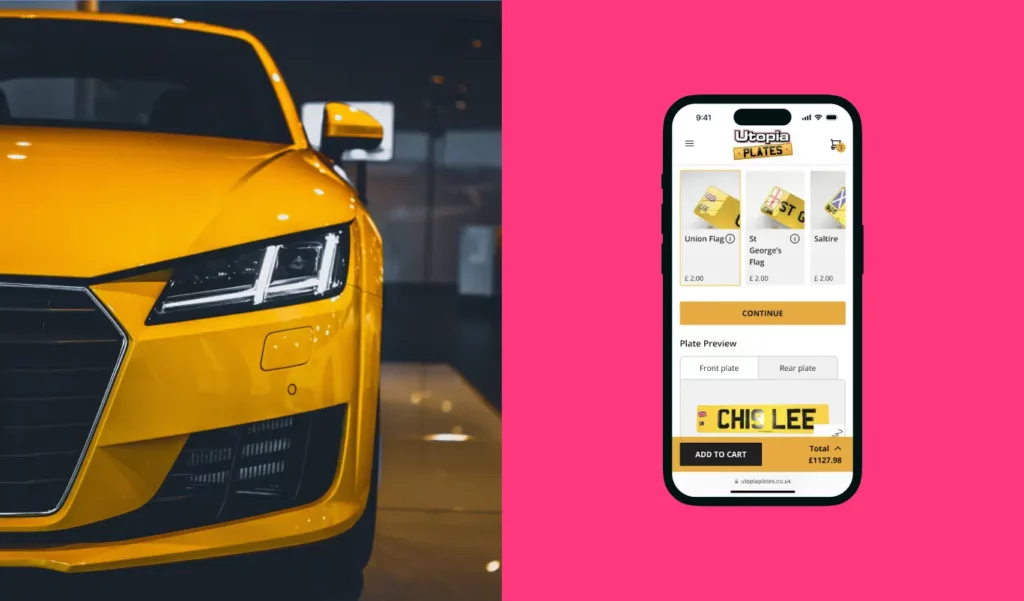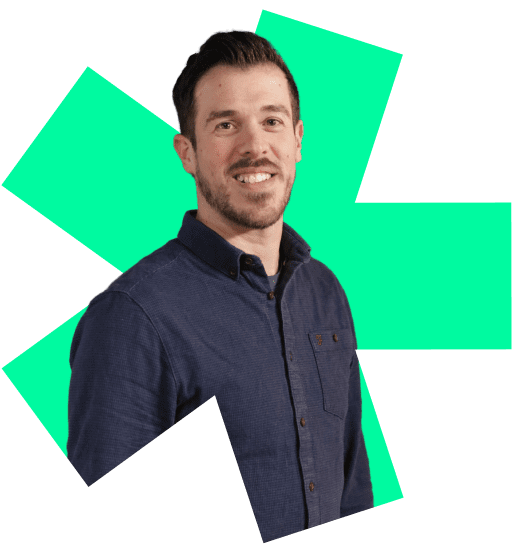 Let's get started!
Great digital products aren't just built, they're co-created. Together, let's breathe life into your idea, crafting solutions that stand out.