The challenge
For a healthier, happier you
An app that will be with people at all times, with easy-to-follow strategies, guides and techniques that will promote more movement, better posture, and use of breathing and mindset techniques.
A health hub, health pad, my health pad?
Services
Discovery & UX Design, Idea to Market, Mobile App Development
Industry
Health care
Website
healthpad.online/download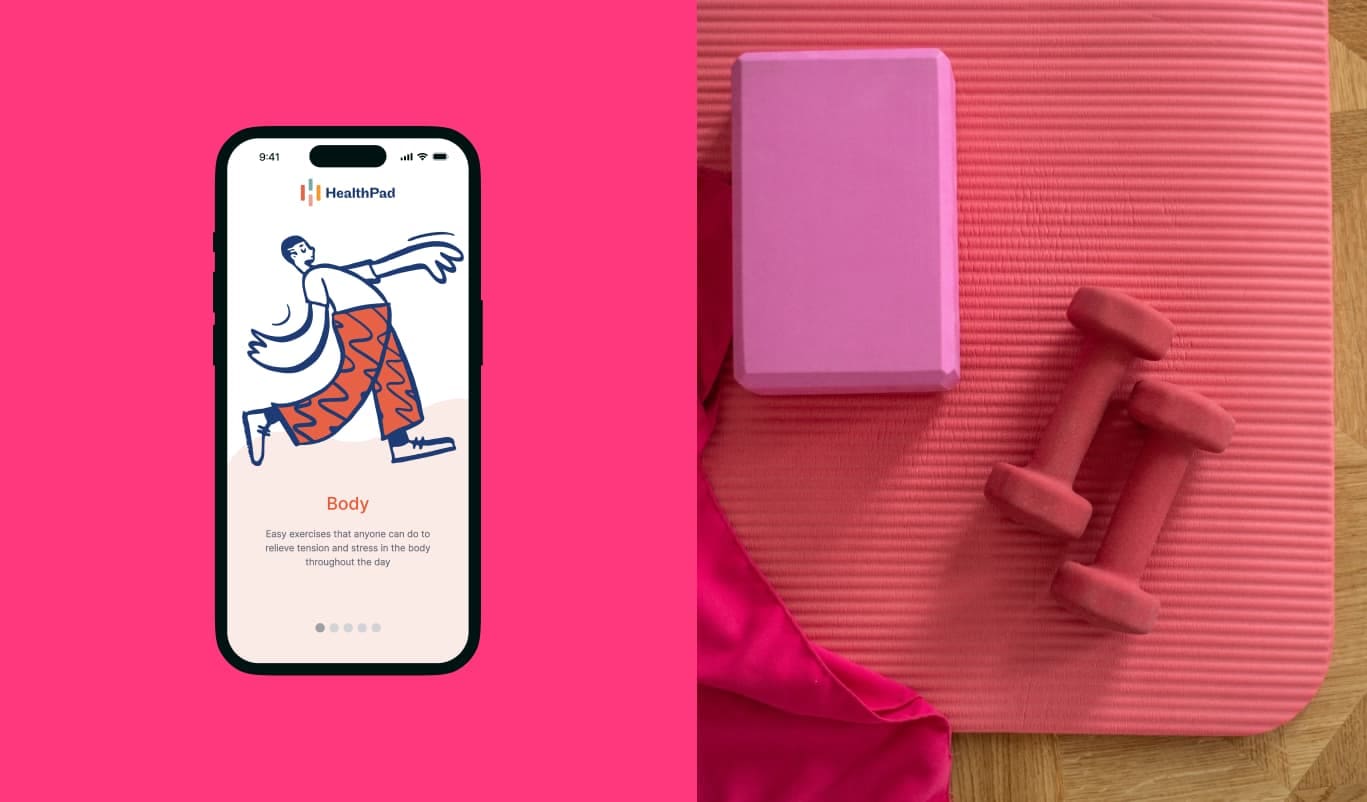 The solution
Forming the HealthPad team
Jo founded a team to help bring this idea to life, which is when she spoke to Dan and Judith. Dan suffered mentally and physically from working in stressful environments for twenty years, then learned to apply holistic methods to combat his stress. When Dan joined the Council, he met Jo, and they discussed the HealthPad idea.
With Dan's experience and enthusiasm for the idea, he became HealthPad's 'top geek' to support the digital side of the project.
Judith, who became a friend of Jo's after meeting at a yoga retreat, also shared the same beliefs. As a language therapist, yoga teacher, trained counsellor and hypnotherapist, she has dedicated much of her life to helping people manage and overcome stress in their lives. When Jo mentioned this project, she couldn't wait to help. Three founders are ready to make HealthPad happen.
Zero to £12,920 through Crowdfunding
With the founding team formed, they had an issue. Money.
Where do you start?
Through Crowdfunder!
The HealthPad team all have full-time jobs, but this didn't stop them. In their spare time, they took swift action setting up their campaign on Crowdfunder with key messaging, building out their app idea and creating introductory branding before pushing the campaign live.
Through marketing their Crowdfunder with their networks, they started to gain traction. People loved their idea and immediately gave them support!
They then set out to apply for a grant and match funding programmes, securing three: CLLD grant, Cornwall Social Inclusion and the other from NatWest Back Her Business Fund, bringing them up to a total of £12,920, well over their goal of £10,000.
What a result!
Hiyield was then in to help them create a beautiful brand and product.
'Hiyield was recommended to us, and from the first conversation, we knew they really got the idea and we loved their energy' said Jo.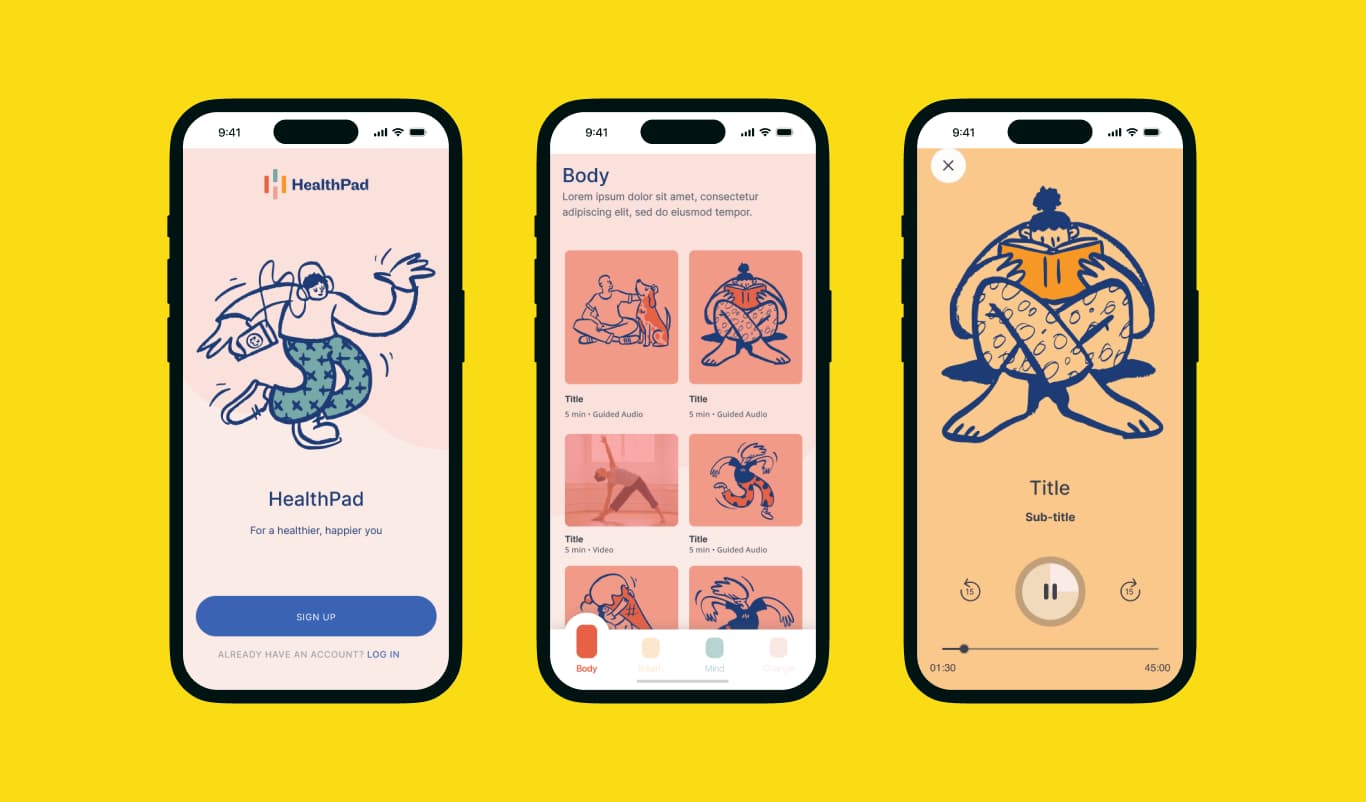 Playful, strong, optimistic
To get the look and feel of HealthPad right, UX & UI Lead Nick Voke took the HealthPad team on a design journey.
Before anything, Nick scheduled a one-to-one with Judith. Jo praised this session, saying, 'We loved the session with Nick, where she was able to show some of the techniques they would use in the product, and through this, Nick was brilliant at understanding what the product was about.'
Then, Nick crafted three branding identity design routes with a strong focus on three keywords for the HealthPad team to choose: Playful, Strong, and Optimistic.
Building out the brand and mobile app
A change that happened early on was a tweak of the brand name. Nick suggested dropping the 'My' and bringing together Health and Pad to create, HealthPad – a word punchy and straight to the point.
Complete branding pack
Nick created a set of assets full of typography, illustrations and colours that the HealthPad team can use throughout the app and marketing.
Body, Breathe, Mind, Change
Through Discovery and a process of Empathy Mapping with the team, Discovery Lead Neil identified the main functionality of the app by putting together an Information Architecture with the user's needs and goals centred at the heart of the experience:
Sign up and sign in
How to use the introductory app pages
Four quadrants on a navigation bar: Change, Body, Breath, Mind
Each quadrant is to have a grid of assets on the page of voiceovers and a video following along.
Defining the user journey through wireframes
Using Figma, Nick built out the user journeys based on the information architecture, creating the App's User Interface. Project Lead Laura set up weekly meetings with Jo, Judith and Dan, working in design sprints, keeping a feedback loop, and signing off the designs at each sprint.
'Laura's project management was great and was really valuable' Jo said.
Developing a native app that's on the App/Play Store
The HealthPad mobile app uses Google-based technologies, making it quicker to build the app because the technologies talk to each other. Dart is the coding language, Flutter the framework, and Firebase the database.
Flutter also holds remarkable power when building a mobile app that must be on all systems: Apple, Google, Linux and Windows – an unmissable feature for the HealthPad mobile app.
Dart
Flutter
Firebase
Firebase App Distribution
HealthPad quality assurance at its finest
The HealthPad app was first developed locally, meaning that it wasn't hosted anywhere but run via a program on a computer. The app development was then split into development sprints, where at each stage, they would be reviewed by another full-stack developer.
When the HealthPad app was built, the app was pushed up to Firebase integrating its database and activating Firebase App Distribution, a platform that allowed a real-time view of what your app will look like on both the Apple Store and Play Store.
The app was tested in closed beta on a range of devices from big to small and old to new, identifying and addressing any bugs ready for launch.
Final copy tweaks
Jo and her team pulled together the final tweaks of the copy for the HealthPad mobile app, and there you have it. The final masterpiece. An app ready to transform the world's awareness of their bodies, combating bad posture putting optimum health above all.
The results
Launch day, 3 November – National Stress Awareness Day
Jo, Judith and Dan chose to officially launch the app on National Stress Awareness Day – 3 November 2021.
Launch day!
The app went live with lots of positive feedback.
With HealthPad launched as a minimum viable product, Jo, Judith, and Dan have their sights set on their next objective: To build out additional features of the app and increase their reach, with a solid focus on creating relationships with co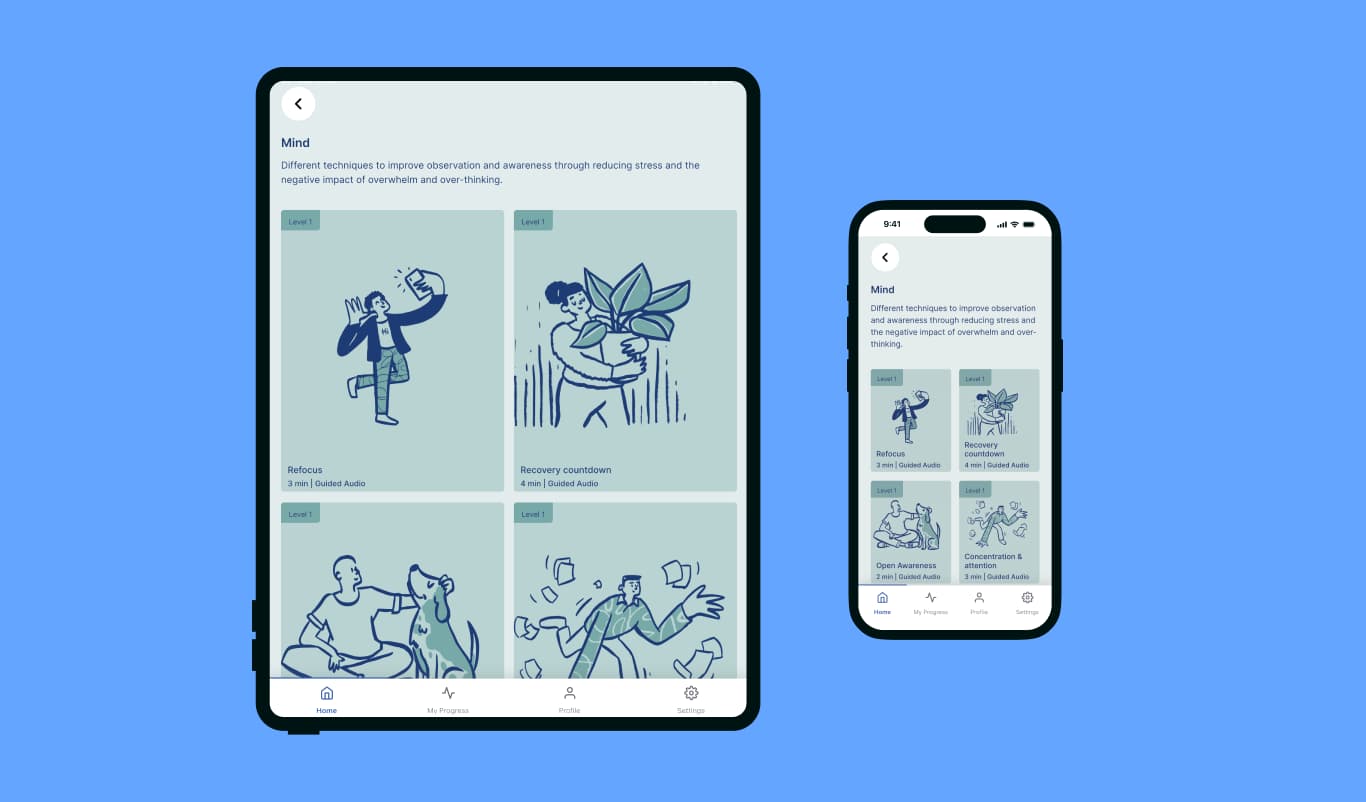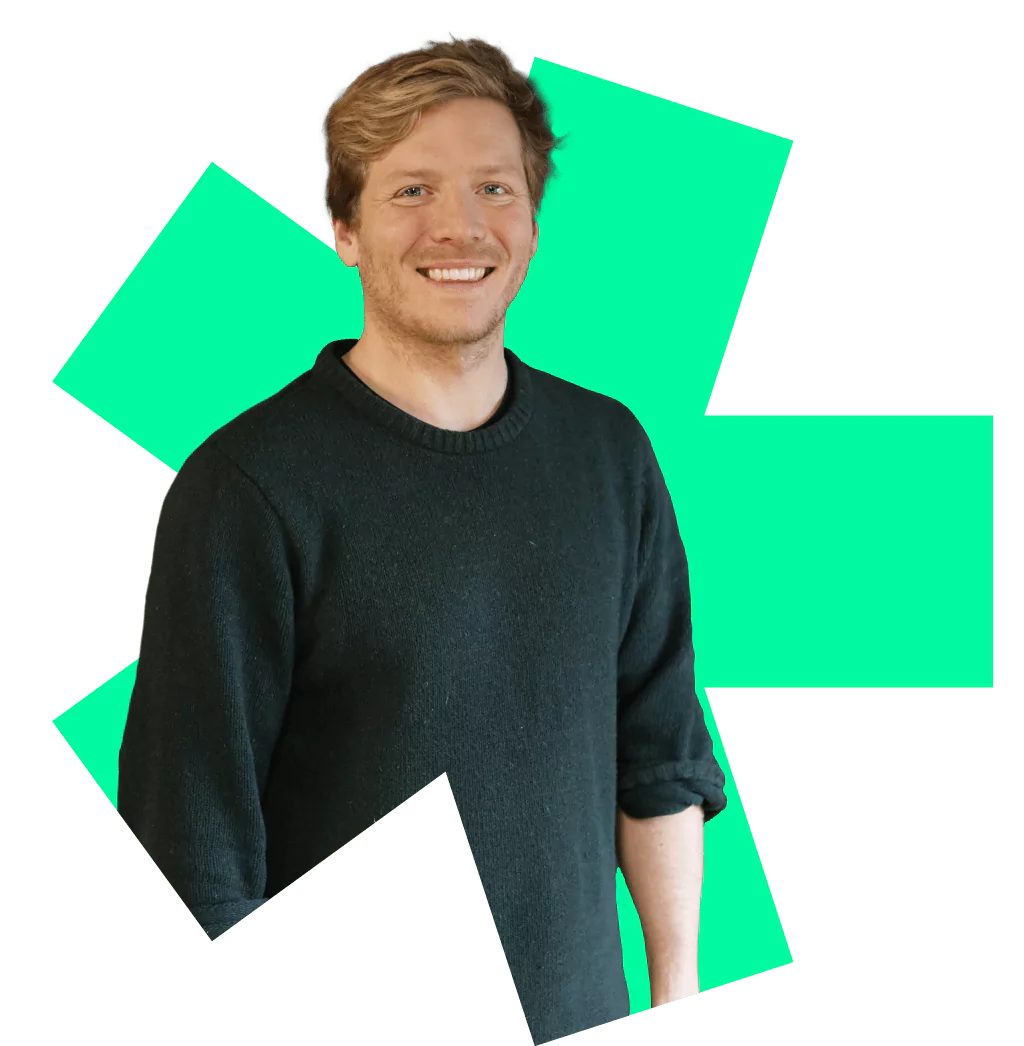 Let's get started!
Great digital products aren't just built, they're co-created. Together, let's breathe life into your idea, crafting solutions that stand out.