Back to Work
Kraken Marketing
A bespoke. WordPress website as an SEO powerhouse.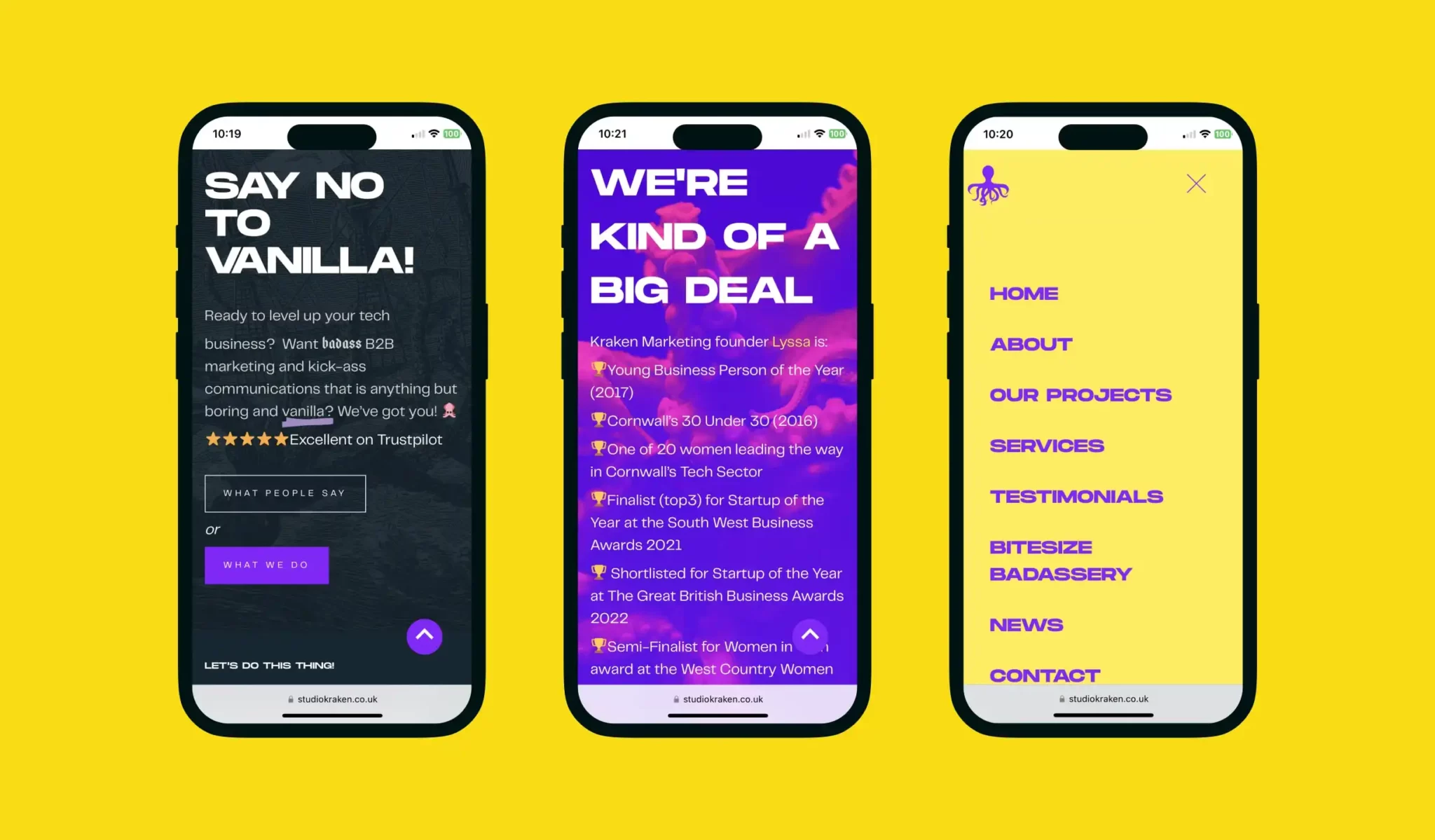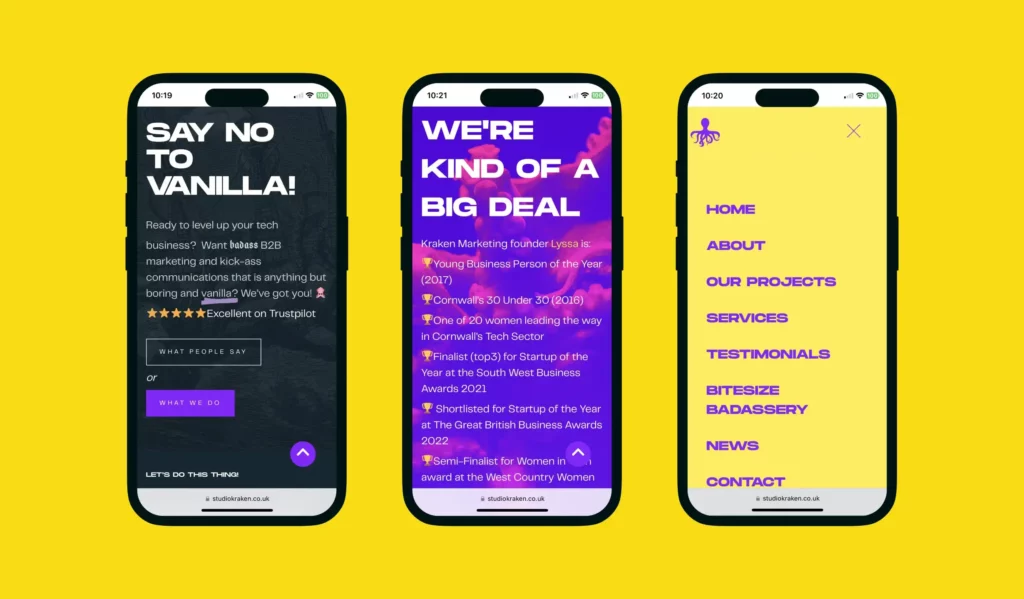 The challenge
A website that is totally badass!
'SAY NO TO VANILLA' – a lesson we can all learn from Kraken Marketing.
Kraken Marketing is a revolutionary digital marketing agency that beats the boring and combats the dull. Lyssa-Fêe Crump is the driving force behind this exciting digital marketing agency, becoming Young Business Person of the Year (2017), Cornwall's 30 Under 30 (2016) and One of the women leading the way in Cornwall's Tech Sector.
Kraken Marketing helps businesses find their voice. Of course, the technical elements like SEO and data come in, but having an individual tone of voice is essential to creating a brand identity – this is what Kraken Marketing believes.
Lyssa was looking for a team that could help her create a website that communicated Kraken Marketings' message. Hiyield was a perfect fit.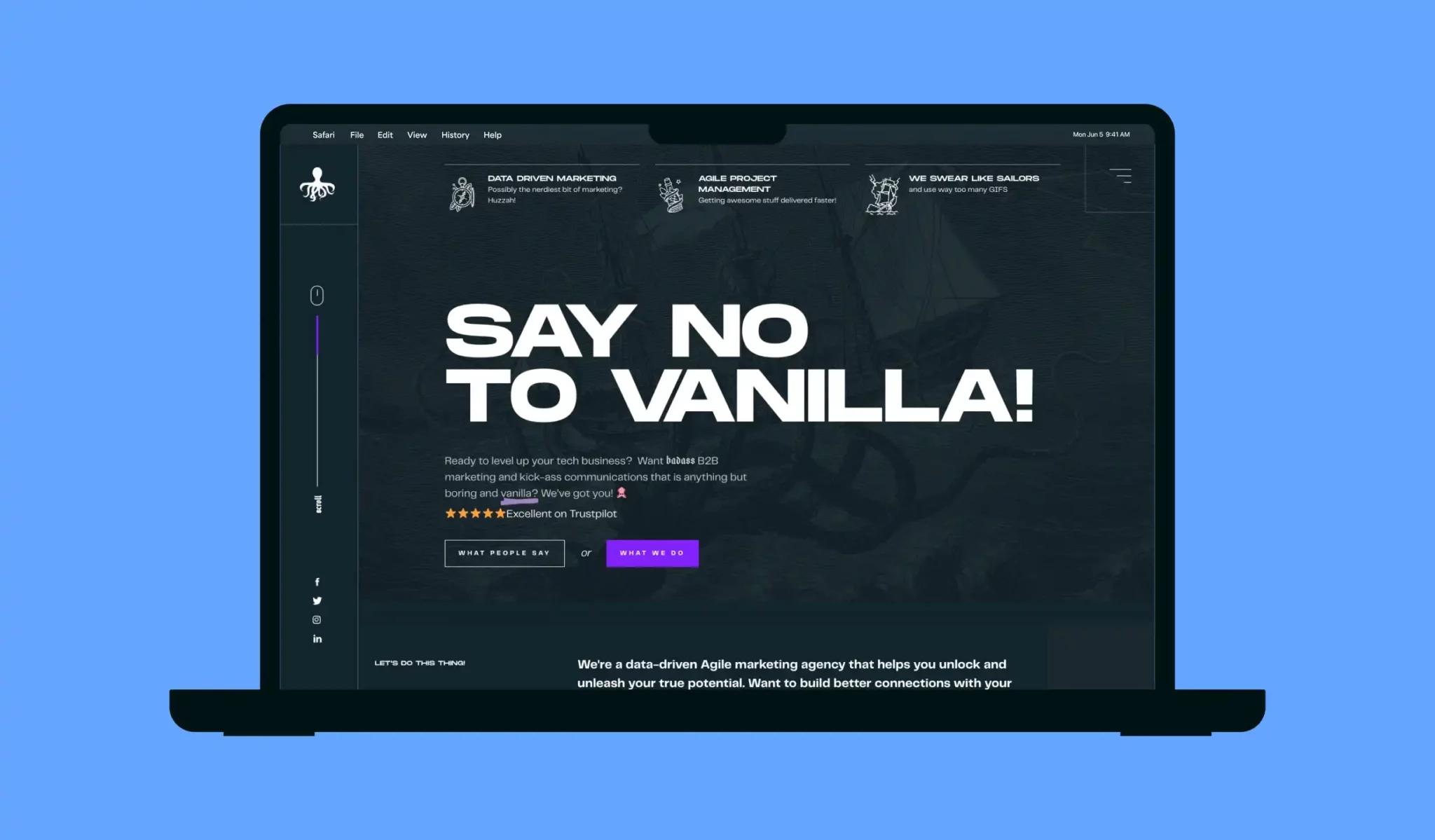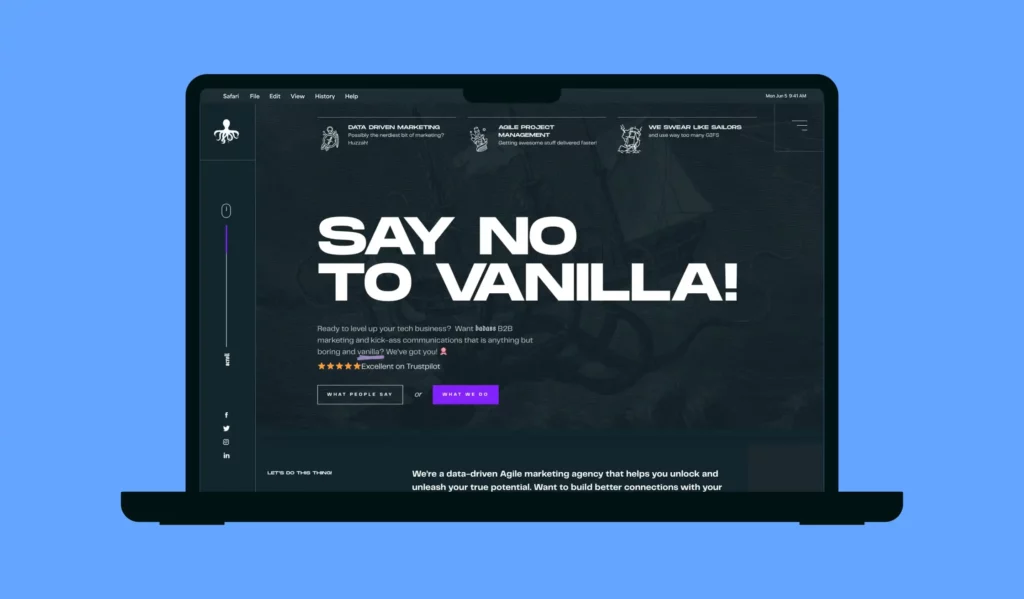 The solution
Equipping Kraken Marketing with the best CMS tools in the business.
Like all projects at Hiyield, the project started with a Discovery session.
Together, Hiyield and Kraken Marketing outlined the website's objectives and got to work at understanding the target user. Plus, Lyssa guided Hiyield through what Kraken stands for and the message she would like to communicate through the visual identity.
Hiyield's UX/UI designer then put together wireframes consisting of a five-page site.
Main functionalities:
Blog
Subscribe to a mailing list
PDF Downloads
Yoast SEO plugin
Design that's punchy and purple and Kraken-inspired
Once Lyssa and her team signed off the wireframes, Hiyield got to work on the colours, images, illustrations and the entire web design. The results came in, and Hiyield showed the punchy Kraken-inspired design to Lyssa. It was a fit.
Developing the site block by block
Hiyield logged the project onto their project management tool, Productive. Then, they started to code their way through the design, block by block.
The site's design uses Guttenberg Blocks, a brilliant Method where you can combine Design Patterns to create a very flexible page layout, so Lyssa has complete control over editing the structure of her site. Also, they made a bespoke WYSIWYG to instantly show Lyssa what she is creating in the back end of her website.
Soon enough, the Kraken Marketing website was built and ready for a one-to-one training session on how to use the WordPress CMS.
The results
Lyssa released the Kraken! An eye-catching bespoke design gets results.
With the new website built, and the training session complete, Lyssa populated the content before pushing the site live.
As Kraken Marketing would say, it was totally badass!
The site had a punchy purple on the colour pallet that drew attention to critical areas within the website. It had a bold typeface and an immersive design that no user would forget!
Lyssa's ambition of Kraken Marketing has been an influential part of creating a user experience all users will remember.
Browse the Kraken Marketings Website below, and if you are interested in building an impactful bespoke website, book a free discovery session with us.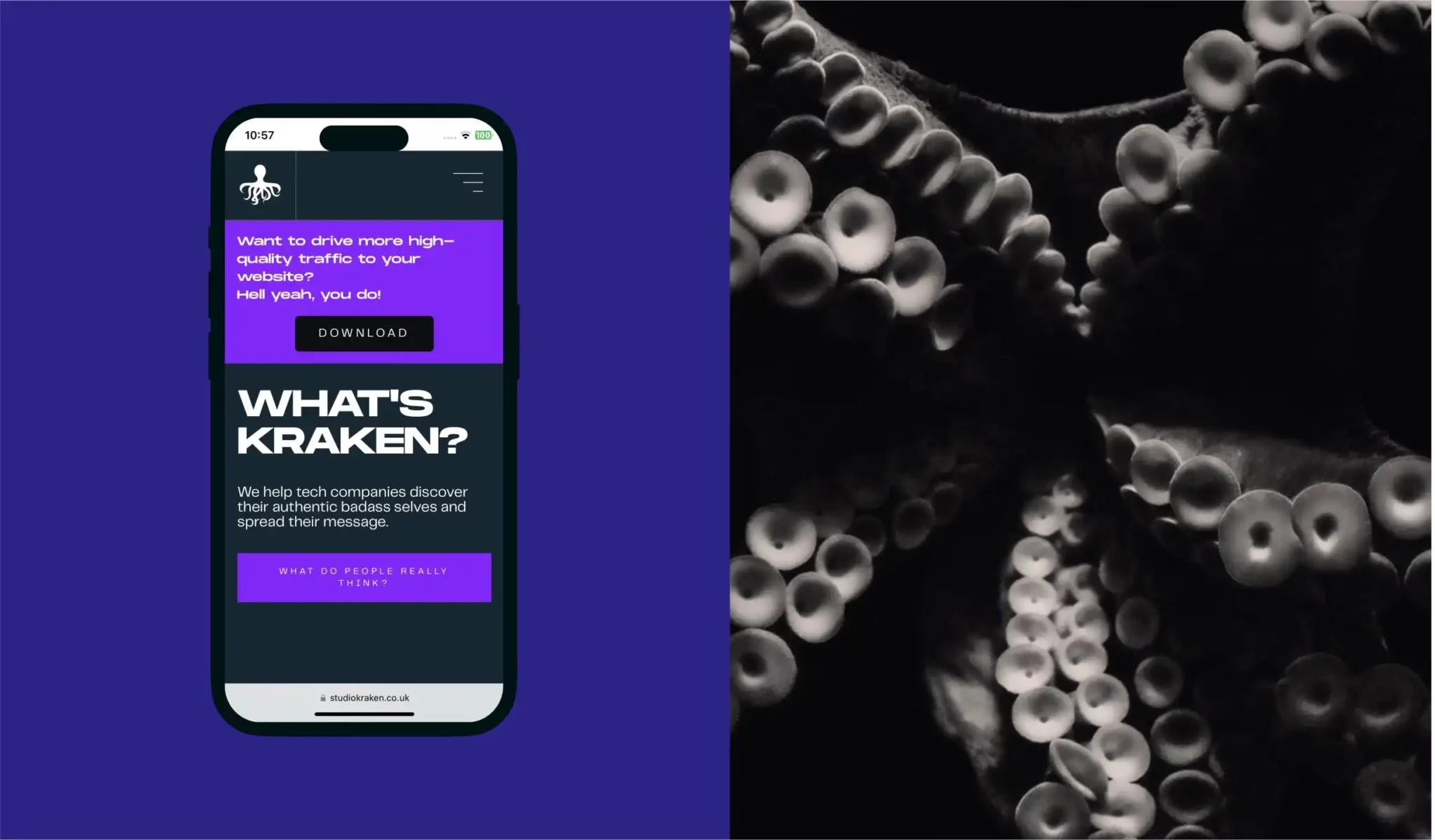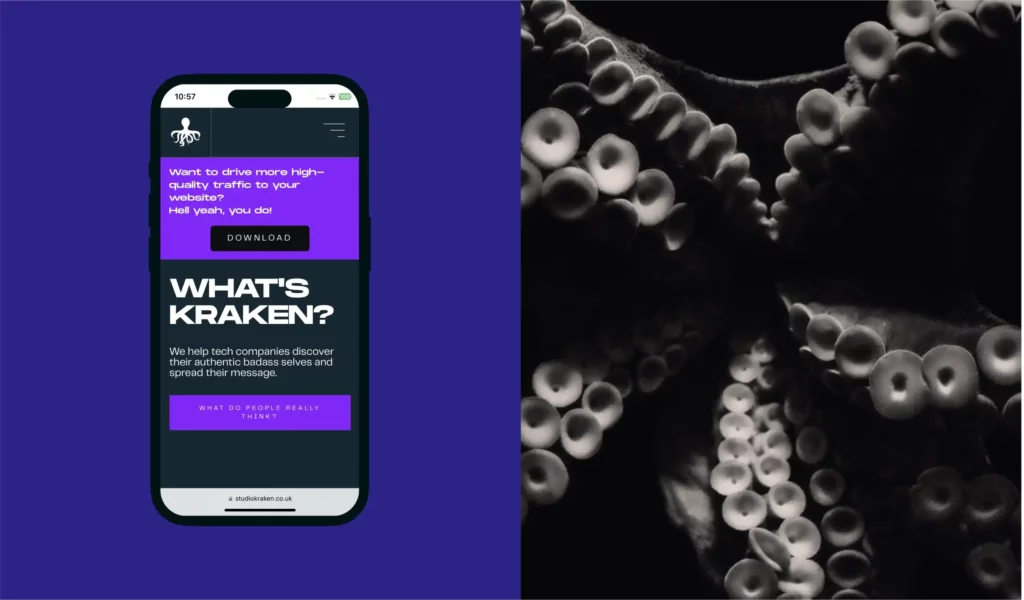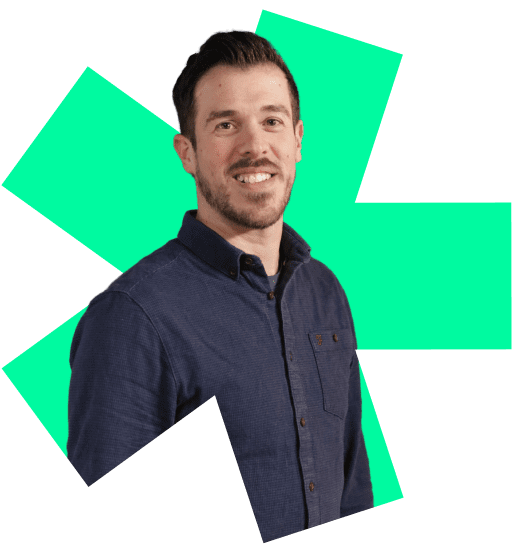 Let's get started!
Great digital products aren't just built, they're co-created. Together, let's breathe life into your idea, crafting solutions that stand out.